Group Pages are "smaller learning communities" within MyVRSpot, and serve as a centralized location where Group members can upload and share media and digital files that are specific to a certain subject, class period, or extra-curricular Group. Although all users can invite other members to join the Group, only users with an access level of Teacher and above can create Groups and approve pending users and media files.
There are two different types of Group Pages:
Public Group: allows any Users within your school and/or district to join the Group, without needing approval from the Group Owner.
Private Group: requires approval from the Group Owner before becoming a member.
Creating a Group:
To create a new Group, click on Groups > Create Group.   Type in a Group Name and enter a Group Description.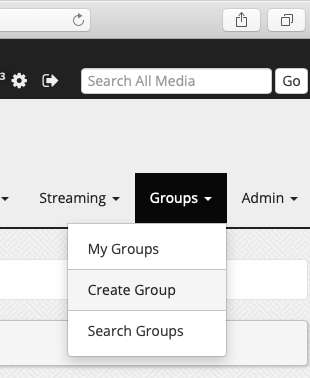 Next, select the Group type by clicking the button next to either Public or Private.  A Group logo can be added by browsing and selecting an image file from your computer.
Click the Create button.
NOTE:  Accessing the Settings tab from the Group Activity Page allows the Group Owner to edit the information for the Group or delete the Group altogether.
Approving Group Members:  If a Group was set up as an Approval To Join Group, then the Group Owner must approve any pending requests to join the Group, before the user can be a member of the Group.
To approve requests to join your Group, click on the Manage Members tab from within your Group.  At the bottom of the page, it will list any Pending Users.  Next to each name, you can click the green checkbox to Approve, or the red circle to reject the member.