User Roles in Groups determine what actions or the access level of each user in a Group. Access levels range from read only to an administrator role. Group Administrators and creators of a Group can update the roles for the members in the Group. Follow these instructions below to update a User's Role in a Group.
Update a User Role
You can update individual User Roles as well as bulk update User Roles. To update a User Role, follow these instructions:
Step 1: Login to your MyVRSpot account and click Groups > My Groups.
Step 2: Click the Group Members (person) icon to the right of the Group you want to update.

Step 3: Click the checkboxes to the left of the users that you want to update and click the yellow "Update Roles" button.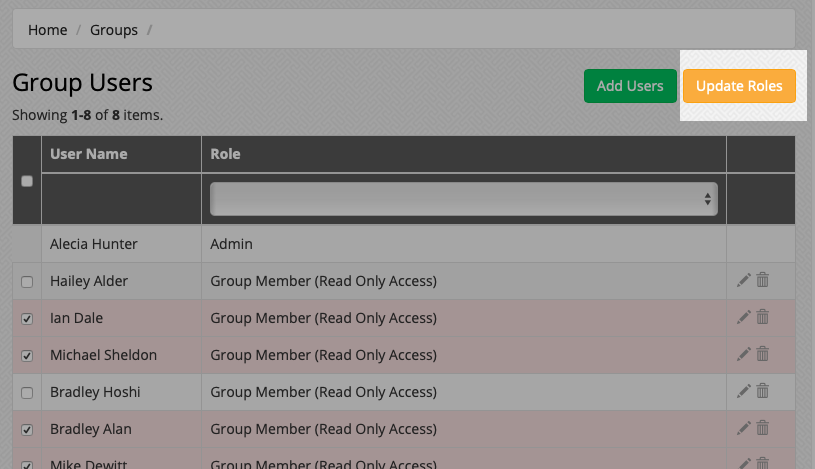 Step 4: Now, you can either bulk update all of the Users' Roles or you can individually update each User's Role.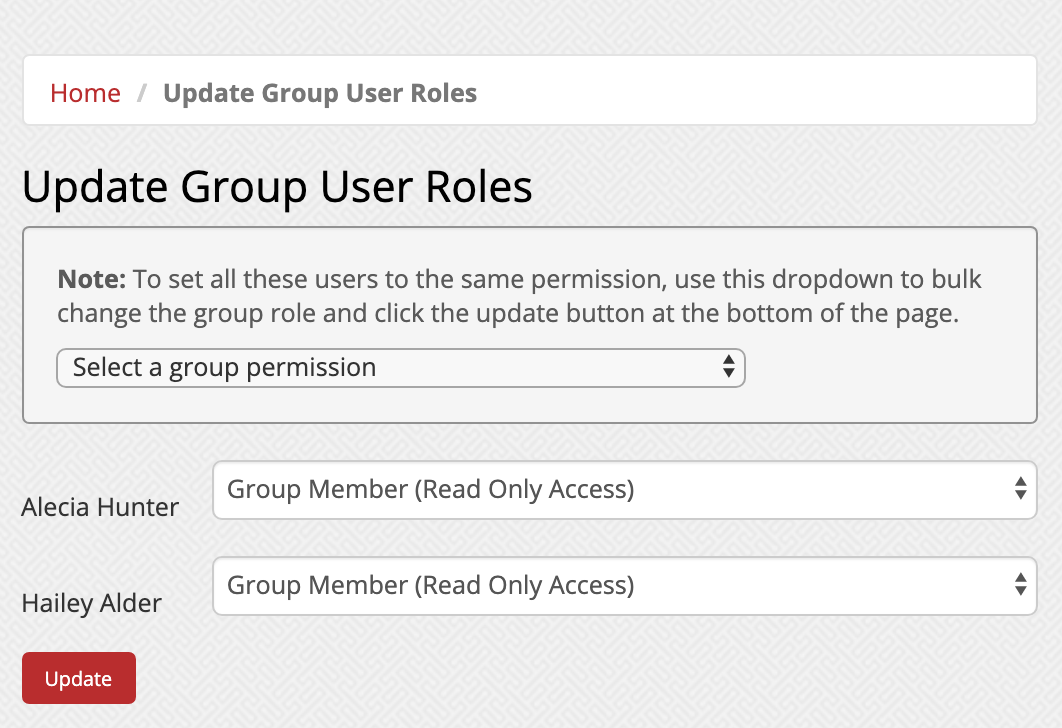 Bulk Update User Roles
To bulk update Users' Roles, click the dropdown "Select a group permission" and select a User Role that will update all of the Users' Roles. For example, if you chose the "Administrator" role, all of the selected Users' Roles in the dropdown field to the right of the users' names would change to "Administrator". Click "Update" to save these changes.
Update Individual User Roles
If you do not want all of the users to have the same User Role, you will want to update all of the selected User Roles individually. To adjust each individual's Users Role, select the dropdown field to the right of the user's name to change their User Role. These are the four role options:
Read Only (default)
Admin (they can accept or reject member requests to join a Private Group, add and remove members to the Group, and change User Roles of the Group)
Can Add Media to Group
Can Add and Remove Media in Group
Step 5: When you've finished changing all of the Roles, click "Update" to save these changes.