There are 3 types of Showcases: District, School, and Classroom. If you have a District Administrator account, then you have the ability to create District, School and Classroom Showcases. If you are a Teacher, you can create a Classroom Showcase. To create a Showcase, follow these simple steps:
Step 1: Login to your MyVRSpot account and click the Admin dropdown on the top menu and then click Manage Showcases.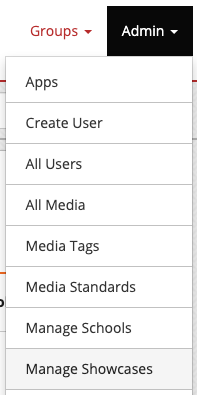 Step 2: Now, click the Create Showcase button.

Step 3: If you are a School or District Admin, you will need to select the Showcase Type. Give your Showcase a name, create Showcase Categories, select a Default Showcase Order, and upload a header image, if you would like. There are a few other options available, such as requiring a password for public viewing and a field to add custom CSS. Once you're finished click the green Create button.
Step 4: If you have created a Classroom Showcase, you have the option to add additional users who can add content to the showcase as well.

Step 5: Share your Video Showcase either by QR Code, URL, embed it into a webpage, or you can even have live stream recordings automatically populate to your Video Showcase.