If you are wanting to share your SmartSpot quiz to a Group, there are two ways to do this.
The first option is to share the Quiz as part of the Quiz Creation process.  After creating your quiz, you will have the option to:
Copy the URL link for the Quiz
Select specific users to notify them of the Quiz
Add the Quiz to one of your existing Groups.
To add to an existing Group, click in the box to the left of the Group name, and then click the Notify Selected Users.  This will notify all Users in that Group that the quiz has been added to the Group and is available for viewing.
If you do not share to a Group upon creation of your quiz, you can always share it later, by following these steps. From your account, click the SmartSpot menu item, and then My Created Quizzes. You will see a list of all of the Quizzes you have created.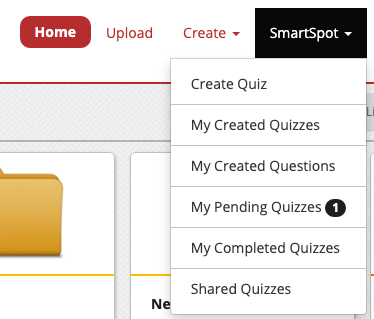 To the far right of your Quiz, you will see several icons. Click on the Notify Users icon (looks like a megaphone).

On this screen, which is the screen displayed after you create a new quiz, you will notice any Groups that you are the Admin of, or where you have permission to Add Media to Group. Find the Group to which you want to share this Quiz, and click the checkbox to the left of the Group name.
Click Notify Selected Users.