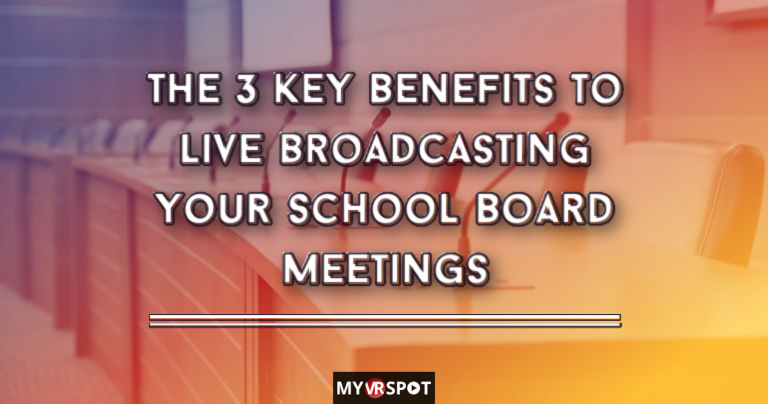 They say it takes a village to raise a child, and the same can be said for educating them. On occasion, typically once a month, that village comes together at a school board meeting to discuss and decide on important factors that impact the daily lives and education of all students. While many parents and community members may be unaware that these meetings are typically open to the public, more and more people are waking up to the fact that school board meetings are one of the best places to have your voice heard in a meaningful and immediately impactful way. To get the most out of their school board meetings, districts across the country have discovered that live broadcasting them to the public is a powerful and innovative way to keep the community at large informed and engaged. Check out these three key benefits to live broadcasting your school board meetings:
INCREASED ACCESSIBILITY: School board meetings are usually held on a weekday in the early evening, which can make it difficult for staff, parents, and community members to attend in person at the given time. Live broadcasting your meetings ensures that anyone can tune in from anywhere, without having to physically attend. The inclusion of a live chat feature can enable viewers to make their voices heard and ask important questions remotely. Additionally, accessibility can be taken a step further when you add live captioning to your broadcasts!
COMMUNITY ENGAGEMENT: This increased accessibility leads to an increase in community engagement, as more people can be actively involved in the decision making process. Students whose families and community are personally invested in their education are at a distinct advantage and will feel set up to succeed both in school and in life. Live broadcasting your school board meetings is an open invitation for everyone to participate fully in the success of the next generation of future leaders.
REFERENCE MATERIALS: A lot can happen in a single school board meeting, which can make it easy for things to be forgotten over time after the meeting is over. Live broadcasting your meetings and recording those broadcasts is a great way to create a library of reference materials. Need help remembering the specifics of a particular discussion? Just go back and watch the recording! Displaying the recordings on your district website makes it easy for everyone to easily access information on their own time.
The important information discussed and decisions made in every school board meeting should be freely accessible by all staff members, parents, students, and community members. Live broadcasting these meetings to the public is the best way to ensure that everyone's voice is heard and that all decisions that are made are in the best interest of the students and their education. If you're ready to increase accessibility and engagement in your school district's board meetings, MyVRSpot is here to help.

The MyVRSpot Live Broadcasting solution is a true "anytime, anywhere, from any device" solution, which is completely web based, requires no special hardware, and was designed specifically for education. More than 400 school districts and government agencies trust MyVRSpot with their live broadcasting needs, and for good reason. With automatic recording, unlimited storage, and a variety of safe and secure sharing options, MyVRSpot's Live Broadcasting solution makes keeping your community engaged a breeze. Embedding a Video Showcase of all meeting recordings directly into a district website is a clean and sleek way to keep everyone informed at all times. And the addition of MyVRSpot Closed Captioning keeps all your broadcasts and recordings ADA compliant! Ready to schedule a demo? Contact us today.