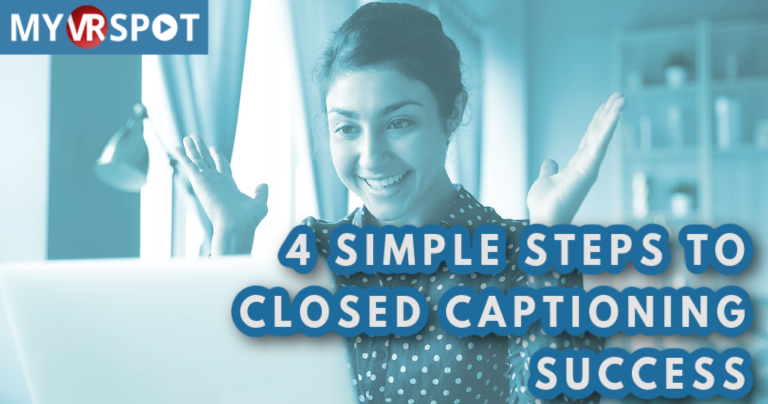 There are a lot of moving parts to keep track of when it comes to hosting videos on your school or district website. Between formatting the video correctly, choosing the right video hosting service, and even just embedding the right videos in the right places, it can get downright dizzying. One piece of the puzzle that often gets overlooked is making sure the district remains ADA compliant with closed captioning standards. Did you know that if you put videos anywhere on a school or district website without closed captioning, you will immediately fail any compliance testing? Let MyVRSpot help you avoid a compliance faux-pas with these 4 simple steps to closed captioning success:
Upload Your Video: Log in to your account and upload a video using the "Upload" tab. You can upload a video directly from your computer, mobile device, network drive, or even from your Microsoft One Drive or Google Drive. You can even close caption videos using the built in recorder tools. All videos are automatically converted to a universally compatible mp4 file.
Click "Request Caption": After returning to your home page, click on the name of the video you wish to caption to open the file, and then click the "Request Caption" button below the media player.
Edit the Created Caption: MyVRSpot's caption editor tool shows you a second by second breakdown of your video and allows you to make any necessary edits to the text. Have a particular word that consistently gets misspelled in your captions? Use the Caption Replacement tool to automatically replace that word with the correct spelling each and every time it appears in a video.
Publish and Share: Voila! Share your newly created ADA-compliant closed captioned video out to the world in a variety of different ways. Embed your videos directly into a school or district website, send an internal or external sharing link, or even generate a QR code.
Don't let closed captioning fall through the cracks when planning your video hosting and sharing for the school year. MyVRSpot offers two different closed captioning methods, including speech-to-text captioning and human transcription. You can even take your accessibility one step further by adding foreign language translation captions. Ready to get started? Trial our closed captioning system today!