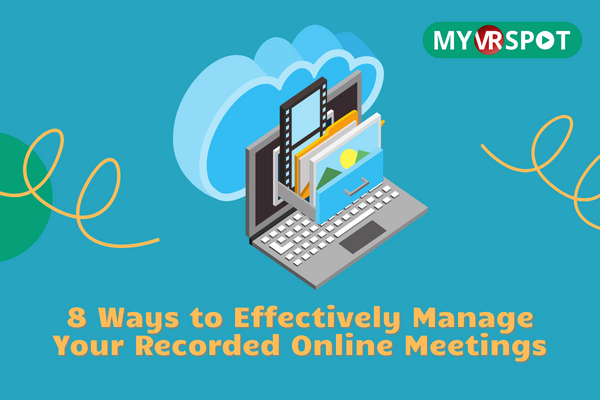 As online meetings and classes are now regular practices in every school district, it is no surprise that best practices in sharing, and storing these recordings have become important. What is the most effective way to make them accessible but keep them secure? And how can the process be streamlined?
Most districts use products such as Zoom, Microsoft Teams, or Google Meet to conduct online meetings. These platforms usually provide recording options that allow you to save the meetings for future reference. MyVRSpot provides a direct "upload from" button for each of these main platforms, integrating with them seamlessly. After being uploaded, here are eight ways MyVRSpot makes managing your recordings easy:
Cloud Storage: With MyVRSpot you have unlimited storage. Once you upload to the platform, you are done! You can keep recordings from multiple sources all within the same solution. Videos, audio files, images and documents can all be uploaded. Long-term archiving is also available.
Organization and Naming Conventions: Establish a clear organizational structure for storing of online meeting recordings. Create folders with appropriate naming conventions to categorize the meetings based on subjects, dates, or other relevant criteria. Consistent naming conventions help in locating and retrieving meetings efficiently.
Access Control and Permissions: Ensure proper access control and permissions for the stored online meetings. Define who can view, edit, or share the meeting recordings based on roles and responsibilities within the school district. This helps maintain security, as well as adherence to applicable student data privacy laws and regulations.
Closed Captioning: Make sure your recordings have closed caption files, so when the video is shared with others or posted to a district or school website, you maintain ADA compliance.
Metadata and Tagging: Add relevant metadata and tags to the online meeting recording to enhance searchability.  Include details such as meeting topic, participants, date, and any associated keywords. This enables users to find specific meetings quickly using search functions.
Sharing and Collaboration: Share your recordings by creating custom URLs (within or outside your organization), QR codes, share directly to Google Classroom, Google Drive, add to a Team, a Group, or create a Video Showcase (a media-on-demand repository with its own URL).
Analytics and Reporting: Every media file within MyVRSpot contains tracking data such as views, watches, plays, usernames, IP addresses, and location.  You can also download this data as a CSV file for easy access and record keeping.
Integration with LMS (Learning Management Systems) and other SaaS providers: MyVRSpot integrates with learning management systems such as Canvas, Schoology, and Google Classroom. Sharing recordings to these platforms is streamlined and simple.
Now that education is increasingly more digital, tools that help schools and districts be more organized and secure with their recordings are in high demand. MyVRSpot is a platform built specifically for K12. Seamless integration with the top three online meeting services (Zoom, Google Meet, and Microsoft Teams) makes it a powerful choice for streamlined, effective media management.