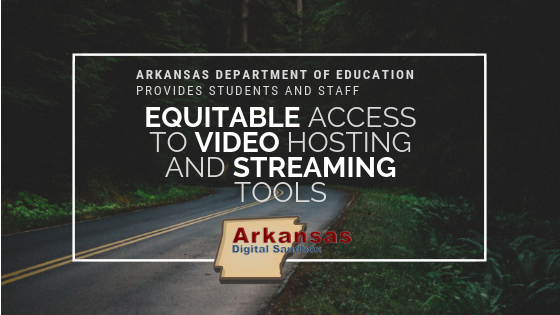 ADE Provides Students and Staff Equitable Access to Video Hosting and Streaming Tools
An Interview with Daniel Collier, The Arkansas Department of Education | MyVRSpot Profile
The Arkansas Department of Education (ADE) provides their staff, educators, and students free and equitable access to a complete suite of multimedia tools through the ADE Digital Sandbox. The tools and features within the Digital Sandbox include live streaming, unlimited cloud-storage, sharing of media, blended learning, digital signage, analytics, and much more.
Trainings for the Digital Sandbox tools are available to all–the Education Service Cooperatives, 250 school districts, and 33,000 teachers. Sign up for the free Digital Sandbox Summit training in Little Rock, January 29th and 30th, 2019.
Easily create student, teacher, or staff Sandbox account. Student accounts can be created via a district LDAP integration or by using the district-provided Google credentials.
Create your teacher or administrator account now using your State username and password:
Daniel Collier, Division of Research and Technology
I interviewed Daniel Collier, Technology Projects Coordinator with ADE's Division of Research and Technology. "The Division exposes administrators and teachers to all the different systems that are free for them to access and use," Daniel explained.
Daniel naturally became the Digital Sandbox representative. In his own role, he was creating copious levels of professional training videos and resources. "We use Sandbox to solve our own department problems and to make our jobs easier. We're happy that it makes us more effective, but we also want to promote it to other administrators and teachers," he concluded.
Do More with Digital Sandbox
"As I talk to educators and education professionals in the schools and districts, I tell them about the flexibility of the Sandbox tools," stated Daniel.
Unlimited Cloud-storage & Privacy
"Many administrators and teachers do not know that they have free, unlimited cloud-storage for videos, pictures, and files," Daniel said. "Teachers and staff have been creating personal accounts to host content and videos, like another Drive account or personal YouTube channel, when in reality, the Sandbox is free and state-sanctioned," he explained.
Daniel stated, "The information stored through the Sandbox cloud is safe, it won't be sold, and it won't be used in ways that we don't intend it to, such as analyzed for user data. That is why we promote Sandbox for digital storage rather than Drive or Dropbox."
Live Streaming
Live streaming is Little Rock's favorite Sandbox tool. Though they use is mostly for morning announcements, districts throughout the nation stream board meetings, special events, and are using it in other creative ways.
Daniel described the simplicity of streaming, "Little Rock sets up a tripod with an iPad, the student sits at their news anchor desk, and they read the announcements for the day."
"We're in 2018. The TVs are gone and the SMART Boards are here. So what are we going to do with morning announcements? All you need to do is set up a live streaming channel. The link doesn't change, so you can access the URL on the SMART Board or post it on the school page," Daniel explained.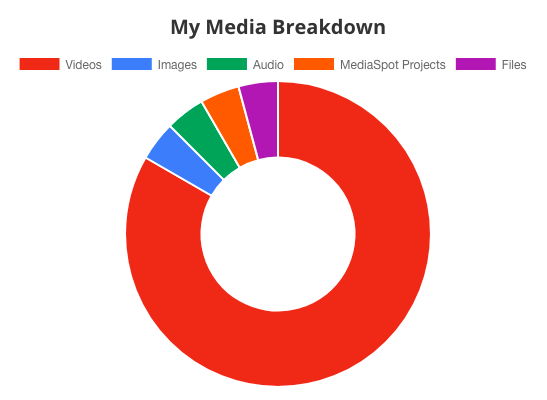 Unlimited Sharing & Privacy
"The ability to share videos and content has proven most useful over the years," stated Daniel, "I like that there is some flexibility and options for sharing, too." You can also use tracking to analyze if your content is being effective.
URL, Embed Code, or QR Code
The most common methods of sharing an individual file or folder is with URL links, embed codes, or QR codes. To share an individual file or folder, click the embed icon on the media, and then select one of the three methods of sharing.
Groups are used to assemble "smaller learning communities" and also to share content ownership. You can create, join, or request to join a group. Additionally, you can change the role of users within a group. Adjust user access, which include read-only, can add content, can both add and remove content, or an administrator. Daniel stated, "Group ownership allows us to not lose content when staff move on."
Blended Learning Tools
Blended learning is another method of sharing content through Sandbox. With peace of mind, allow YouTube and Vimeo to accompany your lesson plans. The Vimeo and YouTube filter strips out all advertisements, pop-ups, suggested videos, and comments–leaving only the video. Now, students can watch videos without inappropriate ads or spiraling into the oblivion with endless suggested content.
Next, align quiz questions throughout a video using SmartSpot and share it with your students. Not only is it engaging, it also saves teachers' time. Students can learn at their individual pace, outside or inside the classroom, and the questions are auto-graded.
Statewide Repository of Content
Another method of sharing is by marking your files "public," allowing all educators and students in the state access to your media. All ADE users can search within Sandbox to find others' shared content. So, if you have remarkable content to share, mark those files at the appropriate privacy level for others to find.
Video Showcase is a beautiful way to display an unlimited amount of video files on your district or school website, without the cumbersome coding process. Once setup, videos can be added and removed from your website, directly from your Sandbox account, with just a couple clicks of the mouse.
To see two examples of Video Showcase, check out SAG-AFTRA Foundation, videos where actors and actresses read children's books, and Hudson City School's showcase of district videos.
Some school administrators are testing Digital Signage, referred to as SmartSigns within the Sandbox system, to display announcements on monitors throughout a school. With SmartSigns you can easily inform students and staff of events, daily schedules–such as the lunch or bell schedule–and even link their Sandbox live streaming channel to the sign. Apply here to test out digital signage for your school.
"The MediaSpot projects tool is especially helpful for administrators," stated Daniel. He uses Sandbox's MediaSpot feature to quickly manage the content on webpages. In his role, there are endless updates to training information, so it's important that he can alter webpage content at a moment's notice.
"Create an HTML page and stop waiting on the webmaster." First, drag-and-drop columns to create the bones of the webpage, add elements, such as text and video, and fill-in the elements with your content. For more advanced users, customize the page with CSS. Then, have the webmaster embed the MediaSpot project's embed code into the website.
Privacy Controlled by the District
Each account and each file has privacy permissions to keep students and content safe. Each user account has privacy settings, which are hierarchical and determined by the school district administrator. These hierarchy levels have a "view down" ability, so any higher-level account can view all content of account-levels below them. Set each file's privacy level from the range of options including public, teachers and above, or district administrators only.

Trainings

&

Summits
Sandbox provides training and support directly to ADE staff, or you can attend an on-site training, like the Digital Sandbox Summit. "Any staff member can email Sandbox Support to fix a problem or schedule a training. It's nice that the staff doesn't necessarily have to go through my department," described Daniel, "we're not used to that level of service."
Daniel's department also provides on-site trainings, the most in-depth level being ADE Sandbox Summit. So, mark your calendars for January 29th and 30th, 2019. These are the next Summit dates to be held in Little Rock.
The Summit is run as a hands-on event. Not only will you learn how several of the Sandbox tools work, but you will also have time to incorporate what you have learned.
If you are looking for a general Sandbox training, you can catch a Technology Ambassador Academy or Level Up event.
Equitable Access
"When I think back to when I was in school, we watched the morning announcements on the boxset TV that was shoved into the corner of the classroom," described Daniel. He continued, "Some school districts are still using this or similar technology. But they don't have to."
"Each student in Arkansas has just as much right to high quality education and technology as any other student in the state," explained Daniel. "And that is why we're providing Sandbox solutions and other technology at this level," he concluded.
"The benefit of Sandbox is that it's flexible. I tell educators and education professionals that Sandbox can meet your school where they currently stand. They're all in different places and putting out different fires, but Sandbox has solutions for them all," stated Daniel.
The Digital Sandbox Team is grateful for our partnership with the Arkansas Department of Education. It is especially heart-warming to know that every student and ADE professional has equitable access to tools that make their learning or jobs easier. We look forward to developing other advanced tools for ADE and charging through their education technology needs.