MyVRSpot users now have access to a powerful digital story creation platform. Users can create amazing HD videos using a combination of their own content and more than four million royalty-free multimedia clips. Finished videos automatically save to the user's MyVRSpot account for a seamless experience.
This provides for an all-in-one solution to creating exceptional videos with a drag and drop editor and multimedia tools. All you need is a computer or tablet.
Content: Access to over 4 million clips of footage and images and more than 8 thousand audio clips.
Editing Tools: A simple drag and drop editor with transitions, overlays and much more.
Sharing: Safely share created videos through MyVRSpot's platform, directly to a Group in MyVRSpot, or even download finished videos. Students can showcase their video with their classrooms, friends and family.
Everyone Can Make Amazing Videos
Powerful tools for the digital storyteller.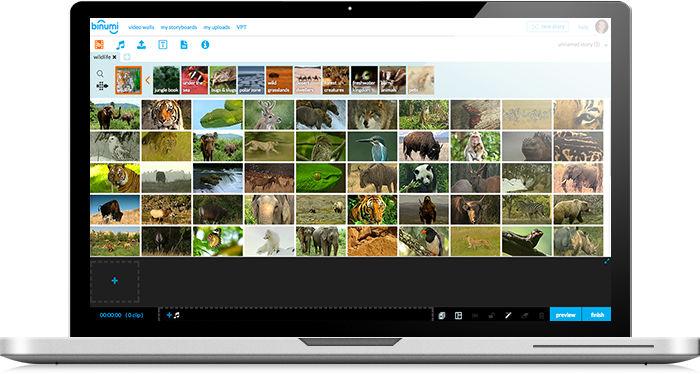 With this integrated solution, users are provided an environment of creation, sharing, and safety that is built for K-12 education. Users can create an unlimited number of videos using the drag and drop editor.
In addition, this interface includes:
A built in voice recorder to add voiceovers.

Multiple filters and effects.

Allows for text overlays and background music.

A font library.

The ability to edit your uploaded videos.
Empower your students to make amazing video projects in minutes. This solution provides an incredible tool set to teach 21st century skills. This is the perfect companion to a 1:1 initiative for Windows, Macintosh, or Chromebooks, or any technology plan rich in standards based learning.
Over 4 Million Multimedia Clips and 8 Thousand Pieces of Music