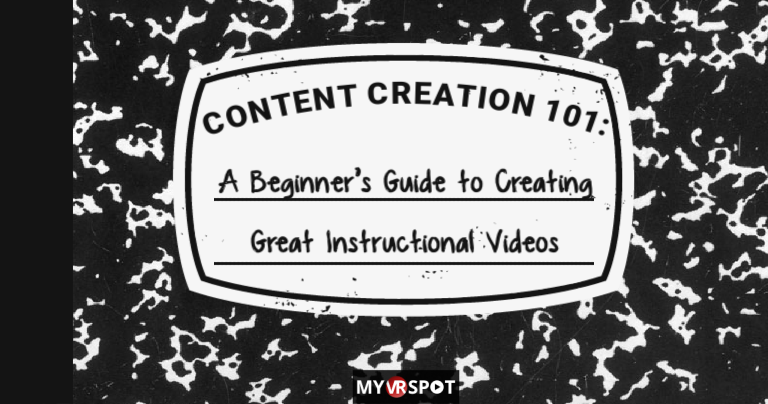 There's no denying that high-quality video content is here to stay in the world of education. Even when many of today's teachers were students in school themselves, their eyes widened with excitement the minute they saw the TV cart being wheeled into the classroom, now traded out for projectors and touch-screen boards. However, we've come a long way since the days of TV carts in terms of who is making that high-quality relevant content. Gone are the days of having to search the library or video store for the latest and greatest VHS tape. These days, there are no better content creators than teachers themselves. With the right tools and a little bit of guidance, teachers can create personalized video content that is sure to engage students and meet their specific needs in ways that more generalized content just can't do. Check out these simple steps to creating great instructional videos:
CHOOSE THE RIGHT EQUIPMENT
When first getting started, it's important for teachers to consider what type of equipment will be required for their video creating. While there are a dizzying amount of options out there, keep in mind that none of these devices need to be expensive or difficult to use, and that teachers may already have access to perfectly acceptable devices, such as built in webcams, USB connect webcams and even mobile devices. Beyond that, there are many inexpensive and simple accessories such as green screens, ring lights, and Bluetooth microphones, that can take a video project to the next level.
LOCATION, LOCATION, LOCATION
Next, it's important to choose the right setting to film an instructional video. Educators should choose a place with optimal lighting and acoustics so that viewers can easily see and hear everything they need to. It's always a good idea to run a few test videos to make sure the positioning and distance from the camera and microphone are correct. Try to eliminate as many visual distractions as possible so that the video looks clean and professional. Pro tip: Green screens are a cheap and easy way to transform a background into whatever it needs to be! Teachers can get creative and customize their background to fit the theme of their instruction.
GRAB THEIR ATTENTION
In a world where bite-sized video content is so prevalent, it's important that teachers really hook their viewers as quickly as possible when creating their own content. Engaging and relevant topics should be presented in a concise and attention-grabbing way. The old adage of "Tell them what you're gonna tell them, tell them, then tell them what you told them" is a failsafe formula to follow when curating instructional content sure to hold the attention of even the most distractible students.
CLEAN IT UP IN POST
Educational video content should look clean and professional when presented to students. Teachers who take the time to make certain edits to their projects after they've been filmed can see much greater results than those who don't. Using a video editor allows for the ability to make a number of creative and useful edits to a video project. Trimming off any unnecessary parts of the video, adding transitions between scenes, text overlays, and background music can all come together to make a truly engaging and visually appealing piece of instructional content.
FIRST IMPRESSIONS MATTER
When everyone is used to scrolling through an endless sea of video content, it's important for teachers to make their thumbnail images eye-catching and visually appealing to stand out in the crowd. Image creator tools can turn any educator into a graphic design master. Using bright, bold colors with text that is short and easy to read is a fantastic way to grab viewers' attention. Free-to-use stock images can be very easy to find across the internet, and are another great way to make a thumbnail look professional and appealing.
BONUS TIP: PRESENTATION MATTERS, TOO
Content creation is just the start; how teachers present their video content is just as important as how they create it. Presenting instructional videos in a custom video-on-demand library is a fantastic way to share content with students, making it incredibly easy for them to browse and watch the latest videos created by their teachers. Creating different categories for viewers to peruse can make it that much easier for students to find more information on specific topics.
CONCLUSION
No one is better suited for the job of creating amazing, inspiring, and engaging video content for students than their very own teachers. Educators can take advantage of the relationships built in the classroom to meet specific student needs in their instructional videos. Ready to empower your organization's teachers to become the greatest content creators they can be? Contact MyVRSpot today to learn about all the amazing tools included in the platform that do just that. With a powerful and intuitive suite of video recording and editing tools, an image creation and editing tool, and the ability to create video-on-demand libraries, MyVRSpot has everything an educator could need to create their next masterpiece.