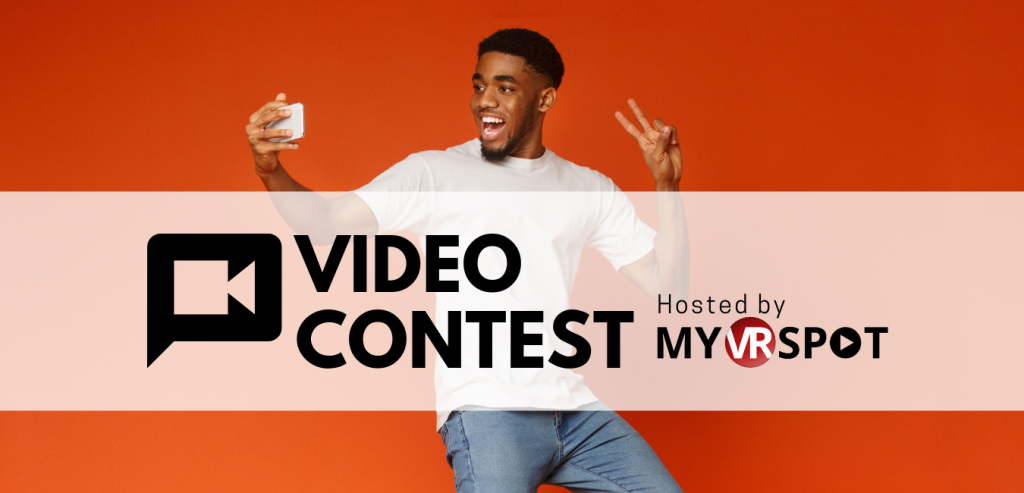 OFFICIAL CONTEST RULES AND TERMS 
Student Video Contest
Sponsored By:
MyVRSpot, LLC ("MyVRSpot")
P.O. Box 272266
Fort Collins, CO 80527
THIS CONTEST IS ONLY OPEN TO LEGAL RESIDENTS OF THE UNITED STATES OF AMERICA AND IS VOID IN ALL OTHER JURISDICTIONS AND WHEREVER PROHIBITED BY FEDERAL, STATE, MUNICIPAL, OR LOCAL LAW.
ELIGIBILITY:  The Contest is open to any student within a School District that has launched a MyVRSpot Student Video Contest. Students that participate must be under nineteen (19) years of age on the day before the Contest begins. By entering the Contest, participants agree to abide by the terms and conditions of these Official Contest Rules.
SOURCES TO CREATE A VIDEO:  The video and audio sources that a student uses for this contest must be either their original material, have a creative commons status, or have the publication rights.  No copyrighted, trademarked, or branded material may be used.
HOW TO ENTER:  When you are ready to submit your video, login to your MyVRSpot account and upload the video.  After uploading the video, click the Edit button to take you to the Video Information page.  Make sure to enter a title for your video entry, and to select the DISTRICT TAG of 2019-2020 Video Contest. Move to the bottom of the screen and click Update. Entries will only be accepted through the MyVRSpot system as noted above. Limit:  one entry per person or small group.
CONTEST PERIOD:  The Contest begins on the first day announced by the school district, and will last for 60 days thereafter.
JUDGING RUBRIC: All video entries will be reviewed by MyVRSpot staff, who will judge all entries based on the following:
Does the video run within the 90-second maximum time limit?
Does the video convey a positive or thought provoking message about the specific topic being addressed?
Is the complete video an original work?
Is the information included in the video accurate and current?
Are any unauthorized and/or copyrighted materials used in the video?
Does the video engage the audience with visual appeal?
Does the video have clear audio?
The 10 entries with the highest scores will be reviewed and judged by MyVRSpot's Educational Advisory Board, which consists of educational professionals around the country, and they will determine the top five (5) video entries and award the prizes.
PRIZES:  Prizes will be awarded to videos with the highest ratings from the judging committees.  There will be a total of Five (5) awarded prizes as noted in the promotional flyers within your district. For a complete list of prizes for your school district, please email us at support@myvrspot.com
CONDITIONS OF ENTRY:  Each entrant in the Contest must be the rightful owner or shared owner of the media file submitted for the contest.  In the event of a dispute regarding the identity of the person submitting an online entry, the entry will be deemed submitted by the person whose account the video was uploaded to.  MyVRSpot is not responsible for technical failures of any kind, lost or unavailable network connections, or failed, incorrect, inaccurate, incomplete, garbled or delayed electronic communications whether caused by the sender or by any of the equipment or programming associated with or utilized in this Contest or for any undelivered, deleted, lost, late, illegible, misdirected, incomplete, or mutilated entries.
ODDS OF WINNING:  The odds of winning depend on the number of eligible entries received.  Such information is not known at this time.
WINNER SELECTION:  Prize winner(s) will be determined based on an overall rating score of their entry, based on the criteria noted in the Judging Rubric section above, and scored by MyVRSpot's Education Advisory Board.  The results will be announced within 30 days of the last day of the Contest.  All winner selection procedures shall be conducted by MyVRSpot, whose decisions are final with respect to all aspects of the Contest.
NOTIFICATION:  The winners will be notified via email, telephone, or through a representative within the District.
GENERAL:  By participating in this Contest, entrants agree to be bound by the Official Contest Rules presented by MyVRSpot including all eligibility requirements.  By entering this Contest, participant consents to MyVRSpot's use of participant's first name for promotional puposes, including online announcements, without compensation, except where prohibited by law.  By entering, entrants agree: (1) to be bound by these official rules; (2) that the decisions of MyVRSpot is final in all matters pertaining to the Contest; and (3) to release and hold harmless MyVRSpot, their subsidiaries, representatives, affiliates, directors, officers, employees and consultants from any and all liability, injuries, loss or damage of any kind arising from their participation or their acceptance and use of any prize.  Any dispute arising from this Contest will be determined in accordance with the laws of the State of Illinois, without reference to Illinois's conflict of laws principles, and the entrants and winners hereby consent to the personal jurisdiction by the State and Federal Courts located in the County of McLean and do hereby specifically waive any personal jurisdiction defense that they may have to the exclusive jurisdiction of the State and Federal Courts located in the County of McLean over all such persons and such disputes relating to this Contest.
RELEASE:  Potential winners may be required to sign and return to MyVRSpot an affidavit of eligibility and release of liability (the "Affidavit"), and, if the Affidavit is not returned within fifteen (15) days of notification, the potential winner will be deemed to have forfeited the prize, and an alternate potential winner will be chosen.  By registering for the Contest or accepting a prize, participants release MyVRSpot, their subsidiaries, representatives, affiliates, directors, officers, employees, advisors, attorneys, and consultants from any and all liability claims or actions of any kind whatsoever and for injuries, damages, or losses to persons and property which may be sustained in connection with the receipt, ownership or use of the prizes, or while preparing for, participating in, and/or traveling to any prize-related activity.
LIMITATIONS OF LIABILITY:  MyVRSpot is not responsible for any incorrect or inaccurate information, whether caused by website users or by any of the equipment or programming associated with the Contest or by any technical or human error that may occur in the processing of entries in the Contest.  MyVRSpot assumes no responsibility for any error, omission, interruption, deletion, defect, delay in operating or transmission, communications line failure, theft or destruction or authorized access to, or alteration of, entries.  is not responsible for any problems or technical malfunction of any computer online systems, servers or providers, computer equipment, software, failure of email on account of technical problems or traffic congestion on the internet or at any website or combination thereof, including injury or damage to participants or to any other person's computer related to or resulting from participating or downloading materials in this Contest.