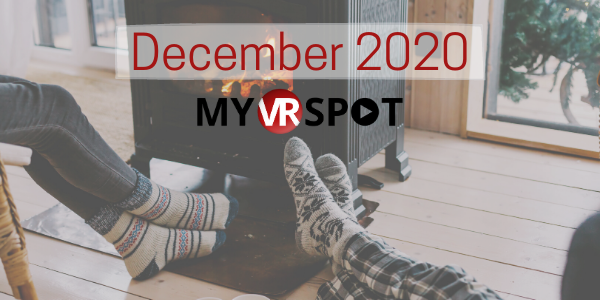 In this special edition newsletter, we present you with ideas of how you might use the MyVRSpot tools to keep your students engaged throughout winter break. From recording holiday stories and songs to creating a digital recipe book, the possibilities are endless! Wishing you happy holidays from all of us here at MyVRSpot.
Use our Video Response System to create interactive, multimodal activities for your students. You can connect nearly any subject to the holidays, as we did in the examples below. You could even create a fun holiday scavenger hunt in VRS! Simply navigate to VRS on your main menu to get started.
Our audio, video, and screen recorders are some of our most powerful tools. Try using the audio recorder to play or sing some holiday tunes! Make a recording of yourself reading a holiday or winter story. Create a video where you can teach units of measurement through baking some holiday cookies. If your district has student accounts you can even have your students record carols, stories, or traditions to share with you.
MediaSpot is the perfect tool for engaging students over the break because of its versatility. You can use MediaSpot to create a holiday cookbook of your favorite recipes. Try having your students create digital thank you notes. Students could also create a project where they share what they have been doing over winter break and include images, video, documents, links, etc. Click below to see some examples!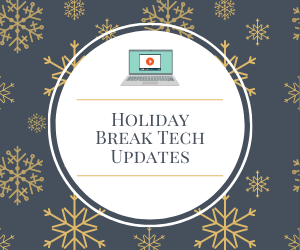 Holiday Break Tech Updates
As the holiday break approaches, we wanted to give everyone some advanced notice on a few changes we are making.  Over the holidays we will be updating our video player with a new version. In addition, we will be taking the My Groups dropdown off of the main page. Users will still be able to access their groups from the Groups menu item. We have vastly improved the loading speed of the Groups menu items and are going to be using the new real estate on the home page to add more bulk media action items as requested by many users. Our spring development outlook includes new features for our VRS and Video Editor tools. Since these new tools have been introduced, we have received a lot of feedback and are hoping to make them even better.
If you ever have questions, please do not hesitate to reach out to us via email at support@myvrspot.com, or call us toll-free at (888) 237-6740, where you will talk to a real person.