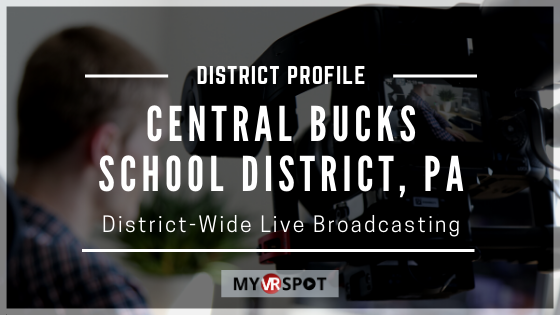 Central Bucks School District, PA | MyVRSpot District Profile
MyVRSpot Supports District-Wide Live Streaming
Central Bucks School District is a public school district in Doylestown, Pennsylvania with classrooms from Kindergarten through 12th grade. They have more than 18,000 students, over 1,000 teachers, and 23 schools in total. For this article, we interviewed Matthew (Matt) Murray, who serves as the Video Specialist at the district.
What was the problem?
Central Bucks School District was searching for a way to both live stream school board meetings and regularly provide morning announcements to their classrooms.
"We wanted an easier way to be transparent with our school board meetings," explained Matt. "Initially, we wanted to find a way to broadcast the audio of the meetings," he said, "and we could do that through YouTube, but it was too complicated." Additionally, the district wanted a way to broadcast morning announcements using the classroom projectors and speakers, while bypassing their small, outdated TVs.
How did MyVRSpot help?
With Central Bucks School District's goals to live stream school board meetings and morning announcements, they implemented MyVRSpot's Live Broadcasting solution.
Matt stressed, "One of the things that we really wanted to do was to make our live streams as easy to access as possible for our end users." To watch a live stream, a viewer goes to the stream URL and, when the streamer begins broadcasting, the streaming player page will refresh automatically and the live stream will play. The stream URL doesn't change, so teachers or parents/guardians can bookmark the URL for the next morning announcement, school board meeting, or special event.
Not only are the live streaming channels straightforward, they're completely controlled by the school district. Matt explained, "YouTube has suggested videos, so when we were testing that platform, we were telling our teachers to be mindful about what they watch. We were afraid that when a teacher would go to YouTube to watch a live stream, their students might see content that might not be appropriate. It's comforting to know that students and our community won't see ads or suggested videos."
Though Matt really liked Vimeo and he also tried YouTube for live streaming, the pricing didn't align with the district's budget. "MyVRSpot was in our price range and fit what we were trying to achieve," he said.
What were the outcomes?
The district implemented MyVRSpot's Live Broadcasting solution in July. From July until now, mid-December, 2019, Central Bucks has streamed over 1,000 times. Their school board meetings channel has had over 600 viewers and their school morning announcement channels have had over 16,000 viewers! Live streaming statistics are nice, but how are their students involved?
The high school students in the Media classes broadcast once or a few times a week as a graded assignment. "It's a great program and those students have a lot of resources available to them," said Matt. The students get to practice using professional equipment to produce video. In a culture where live streaming and video is becoming increasingly engrained in life, it's remarkable that students get this experience.
Not only are the students producing the videos, their peers are also now actually watching the morning announcements. "Teachers can stream from their laptops onto a big projector, so you know that it will keep the kids engaged with the program," said Bridget Fox, Librarian at Tohickson Middle School.
This year, live streaming also rescued an elementary school's Halloween celebration. On Halloween, the school had serious rain and they were going to cancel their outdoor Halloween parades. Instead, they broadcasted a long line of spooky students as they skipped down the hallway. Matt stated, "The principal received around 40 emails from grateful parents/guardians watching the stream. It was really cool to see parents be part of the experience. That's not something that we would have been able to do before."
Stream with MyVRSpot
Watch this short video about what Matt Murray and other staff and students are doing in their broadcasting studios. For example, they're using NDI technology with green screens, and you can even watch a short segment of their adorable Halloween parade!
If you're a current MyVRSpot client, you can learn more about live streaming from one of our pre-scheduled training webinars or by contacting us at Support@myvrspot.com.
If you're not a MyVRSpot client and considering one of or multiple MyVRSpot's solutions, let us know. Your school district can trial any MyVRSpot solutions to see if we can fill your school district's needs.