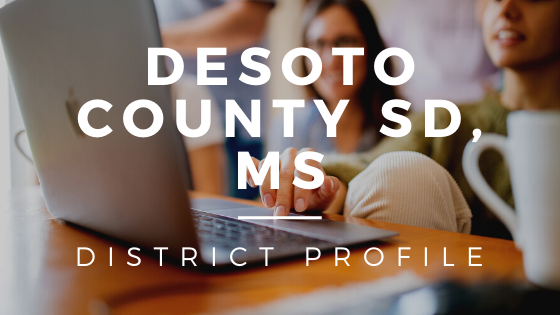 DeSoto County School District, MS | MyVRSpot District Profile
District-wide Video and Digital Media Sharing
DeSoto County School District is a public school district in Hernando, Mississippi that spans 8 different areas in DeSoto County. They have classrooms from pre-kindergarten to 12th grade, with a total of 41 schools. Throughout these schools, they have almost 35,000 students, over 2,000 teachers, and over 2,000 other staff members. DeSoto is an "A" school district in Mississippi and ranks as one of the best school districts in the state.
DeSoto's mission is to ensure world-class academic excellence and provide a variety of extracurricular activities. With that mission in mind, they use MyVRSpot's video and digital media solutions to prepare their students for a 21st-centry global society. We interviewed DeSoto's Digital Media Facilitator and several teachers for this article.
What was the original goal?
DeSoto's district digital media facilitator, Tina Streeter, explained, "Originally, we found MyVRSpot because of their YouTube pure video viewer tool. We needed a way that teachers could safely and reliably show YouTube videos in class without advertisements, commenting boxes or suggested videos." She continued, "but the teachers, students, and staff have discovered so many other creative and amazing ways to use MyVRSpot's platform and tools."
"Our second goal was to provide instruction to our homebound and alternative school students without a break in the learning process.  MyVRSpot's Recorder Tool has been a life-saver for those students."
MyVRSpot is used for sharing, teaching, and creating of media—and it's not just used by their teachers, but it's also used by students and administrators. Below, we share a few examples and stories of how MyVRSpot is making the workload easier for their teachers and staff, and the learning process easier and more engaging for their students.
DeSoto's Success Stories
With DeSoto's goal to prepare their students for the ever-evolving world, they implemented MyVRSpot's solutions in Fall, 2018. Here are a few of their stories from having the solution in place for a little over a year.

Sharing–to Collaborate, to Communicate & to Teach
Collaborating with Other Teachers
"We're all about sharing here!" Tina exclaimed. MyVRSpot is a district-wide video and digital media library. Users can upload and share media–including videos, images, audio files, PowerPoints, PDFs, and more—and also search and find the media that has been uploaded and shared by others within the district.
"Teachers love utilizing other teachers' videos. They don't search Google as much anymore, and instead, they find a teacher in the MyVRSpot platform that they know teaches the same subject, and they can search through that teacher's shared media. That gives them instructional ideas as well as the teacher's shared media to create their lesson plans," stated Tina.
Stacey Allen teaches first grade at Olive Branch Elementary and she describes MyVRSpot's Groups and media sharing.  "I'm in a group with other first grade teachers and we all share the same content. We love it and that's how we can find media, get ideas, and use media that other teachers have already found and uploaded. It makes creating lessons that much easier."
Communicating with Parents/Guardians and Community
"I wish we would have had MyVRSpot when I was getting certified for the National Board Certified Teacher," said Stacey. "There is a lot of communication with parents and the community, and MyVRSpot would have helped a lot" she explained. Teachers and staff can share videos and media with a URL, QR codes, embed videos into a webpage, or even create a digital newsletter.
"We have some teachers creating newsletters with videos and pictures using the MediaSpot tool. It really speaks to parents and the videos make it more personal," said Tina. MediaSpot projects are webpages that users can build using drag-and-drop tools to combine text, videos, images, and more.
Mrs. Michael Baird, an elementary English Language Learning teacher at Oak Grove Central Elementary School, said, "Most parents and guardians can't make it to the classroom, but you can send them videos! The parents have loved seeing their students and their progress."
Justin Strawn at Lake Cormorant Middle School, shares how he uses MyVRSpot to help teachers connect with parents.  "MyVRSpot has allowed me to share not only the projects I complete for our school news, but also projects I have made for other teachers. MyVRSpot allows me to upload the videos we create for various purposes, and then the teachers can easily share the projects with the parents of the students they teach by sending out the link I give them. It has allowed us at Lake Cormorant Middle School to help better interact with not just our students, but also with the parents of our students."
Not only can teachers communicate directly with parents/guardians, but they can also publish media to webpages. Tina, the district's digital media facilitator, described the process. "It's really easy for our webmasters to embed videos into webpages and it's easy for people to find the videos to watch later. That's been huge!"
Professional Development and PLC's
DeSoto's administrators want teachers and staff to be able to easily find videos for professional development (PD) or (PLC's). Their webmasters and tech coaches are creating videos of how to use new tech tools all the time. Doing this saves DeSoto's staff and teachers a lot of time since they don't have to explain new tools over and over again.  Some of DeSoto's teachers have even started creating videos tutorials for their own schools using the Screen Recorder tool.  See Marc Lewis' video tutorial about how great MyVRSpot is.
Tina explained an example of how they use MyVRSpot's Groups to share PD videos. "We have a Group called Professional Development that all of our staff can access. Our tech coaches and webmasters are putting a lot of our how-to videos for our tech programs in there. Now people can search in those groups to find those videos to watch or people can share the videos with others so they have something to refer to."
YouTube and Vimeo Pure Video Viewer
Tina explained her district's relationship with YouTube like this, "The district filters youtube for Pre-K to 8th grade.  Teachers still want to use YouTube videos in the classroom . We allow high school students and teachers YouTube access, but we've had a lot of issues getting that to consistently work. It's been a huge headache." This is where MyVRSpot's Pure Video Viewer tool saves the day!
The MyVRSpot Pure Video Viewer is a tool that allows the user to add a YouTube or Vimeo video link into a user's account. What that does, is it strips out all advertisements and suggested videos, so all you get is the video. "Now our teachers' lesson plans are going smoothly now that they can link to YouTube videos. Best of all, they don't have to worry about unpredictable content popping up," delighted Tina.

Differentiated Learning with Videos
Using YouTube and Vimeo videos through MyVRSpot is imperative for teachers preparing differentiated instruction for lesson plans.
"MyVRSpot also helps with differentiating  instruction!," shares Dr. Kamarrie Coleman,
Grade 3 EL Teacher.  "Teachers can create pre-teaching videos to introduce a concept or specific vocabulary to students before a whole group lesson. It only takes a few minutes to create a video and once created the videos can easily be shared with other teachers or viewed multiple times by students from different classes. The videos can also be used for review and remediation to support students who need another opportunity, or even a different way, to hear or see what they are learning."
Stacey Allen, first grade teacher, elated, "MyVRSpot has been like having another teacher in the class with me. I have videos for a small group of students so they can learn separately from me."  Stacey's instructional tool of choice are QR Codes. She explained, "For example, I'll have a QR code that a group of advanced students scan and watch on the presidential election. After they watch the video, those students will write about what they learned." She continued, "On the flip side, if a student struggles on a math section, like adding and subtracting, then I have a paper with a few QR codes that go to videos that I send home with them. They can review those videos so they can catch up."
Stacey continued, "Reading programs are also challenging because everyone is at a different level and I need their parents' help." To use the QR codes with books, Stacey first scans each book into her MyVRSpot account and creates a QR code for each book. Now she has a library of digital books.
To send the digital books home with her students, she adds the QR codes to a piece of paper, prints them out, and puts them in her first-graders' folders. If a student doesn't have internet at home, they can take home the physical books. Sharing digital books with QR codes means that she doesn't have to track down books from first graders and she has enough copies of the book for the entire class.
"MyVRSpot has made differentiated learning so much easier in your classroom because it provides accessibility to those who would not normally have it," concluded Stacey.
English Language Learners
In addition to differentiated learning, teachers use MyVRSpot for English Language Learning classes. Michael Baird and her English Language students use the Video Recorder tool for learning.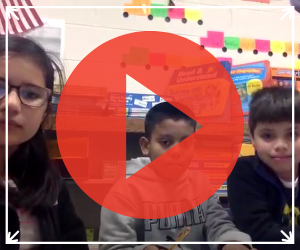 One of Michael and her students' favorite activity is to read a book and roleplay each character. Through reading the book, they learn about figurative language, fiction vs non-fiction, punctuation, and how to enunciate words. Watch this video of Michael and her students reading Peanut Butter and Jelly (A Narwhal and Jelly Book).
"We use the Video Recorder tool to record my English Language students speaking and then we replay the video to them. They love watching themselves and they can hear their pronunciation of the words and hear their errors. It's been very motivating for them!" said Michael.
She also records herself reading books and shares them with her students. She explained, "The videos of me reading a book is more engaging than just listening. They can also visually see the book pages for context, so anything abstract is easier for my students to understand."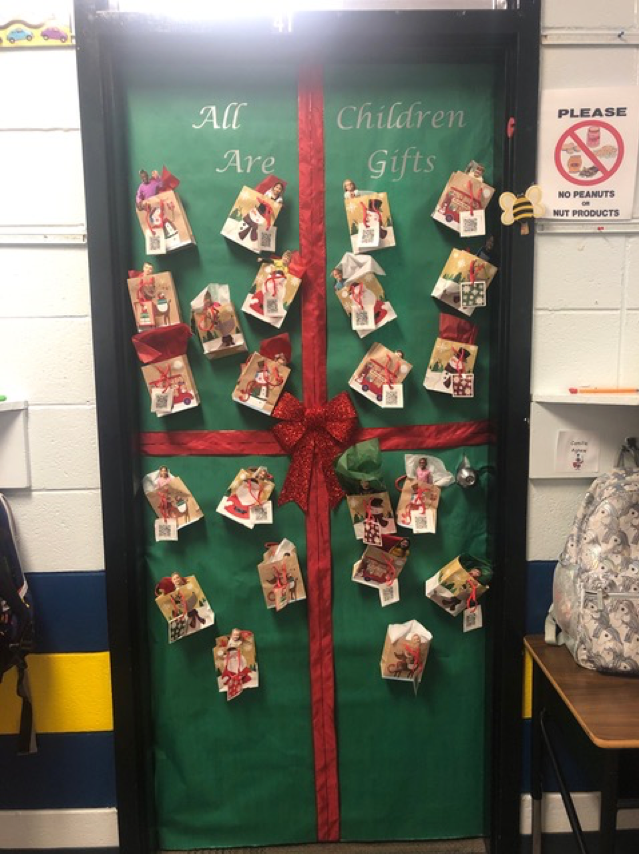 Sharing Projects with QR Codes
Teachers help share their students' work in cute and creative ways too! Stacey used her students' pictures and QR codes as wrapping paper for the school's winter door decorating contest. The QR codes are linked to a video of her students reading a paper they wrote or a PDF of their writing. Stacey's creativity inspired the February newsletter article for Valentine's Day door décor.
Video Quizzes and Presentations
Students are adding some pizazz to their class presentations using the video quizzes tool called SmartSpot. Instead of creating another PowerPoint presentation, the students are recording videos, editing them together, and then using them as a video presentation with quiz questions. "All of the students pay attention to these new and interesting presentations," said Tina.
Multimedia Projects
Tina explained, "Some of our gifted elementary school students are creating art projects using MediaSpot." MediaSpot projects are great because you can combine all media into one page–text, videos, images, and even documents. "And they're so easy to create, edit and share!" said Tina. Here's an example of a student's science project.
Students Using MyVRSpot
Not only are students learning through what teachers share with them through MyVRSpot, they are also creating videos and projects with the MyVRSpot tools. Tina exclaimed, "I'm so proud of our students and teachers and for the many ways they've discovered how to use MyVRSpot!"
Students Teaching Students
Students are teaching next year's students using MyVRSpot's Screen Recorder and video editing tools. Tina explained, "Mrs. Carol Houston, Cyber Foundations I Teacher at DeSoto Central Middle School, is having her students create instructional videos on an application for her next year's computer class. Students are getting cross-curricular experience by creating digital media and writing." Not only are the students learning some valuable skills, that teacher has a lot of her work completed for her next year's students.
"MyVRSpot is a great way to learn how you can make a video. It has all the features of PowerPoint and more. MyVRSpot is a multimedia website. You can insert music and a voice-over in your project. It is easy to add-on when you are in groups, which makes working on group projects easy.  It generally is a great way to create a presentation for anything." –Philip W. (Student)
Mrs. Houston explains, "I love MyVRSpot.  I use it in my classroom all the time.  The versatility of the program is limited only by your imagination.  Here are just a few ways I use MyVRSpot in class:  online newsletters with multiple types of media to introduce a new topic to my students; download videos for instructional purposes so I do not have to rely on streaming and re-buffering;  I use the bookmark feature and create study guide questions in the comments section for my students guide the learning; I use it to assign multimedia projects.  My students love working with MyVRSpot.  They love the fact that they can create cool projects at school and  home and share (via MyVRSpot share tool) their finished projects. MyVRSpot is the new and improved PowerPoint.  It is a tool that is easy for me and my students to use and because it uses multimedia it has the power to capture the attention of your students."
What are the outcomes?
"Our focus has been on higher learning thinking skills, and the MyVRSpot tools like video creation, SmartSpot video quizzes, and MediaSpot multimedia projects have been helpful for teachers and students," explained Tina. She continued, "Students and teachers are tired of PowerPoint or just presenting in front of class, so these other tools are fun and fresh to keep everyone engaged."
Marc Lewis is the news broadcast teacher at Horn Lake High School in Horn Lake, MS.  He states, "MyVRSpot is one of my favorite "go to" tools. The software is very diverse and easy to use. One of my favorite features is the media spot too. This simple-to-use webpage allows me to quickly build training platforms for various subjects and quick tutorials. Here at Horn Lake High we build short training films for virtually everything we do and MyVRSpot is our "go to" platform for hosting all of this content. The organizational feature allows us to quickly and easily categorize and log videos to be sent to teachers and students via email and text messages."  HLHS Broadcasting Class is EVTV (Eagle Vision TV) and Marc has created some wonderful MediaSpot pages to educate his students.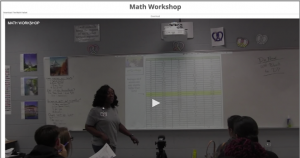 DeSoto County School District employs eight instructional specialists that help teachers and students all over the district by providing extra tutoring for the ACT, SAT and State Test Prep areas.  Marc Lewis created a Media Spot page and had his students video the specialists teaching students during the ACT BootCamp.  This has been extremely helpful to students not able to attend and even provided remediation if needed.  See the ACT Bootcamp MediaSpot page here.
Stacey summed up why DeSoto School District loves MyVRSpot, "MyVRSpot is easy. Teachers might be scared to learn something new, but I just wish they knew how much easier it has made my life."
If you're not currently a MyVRSpot client and are considering one or more of MyVRSpot's solutions, let us know. Your school district can trial any MyVRSpot solutions to see if we can fill your school district's needs.