To create and manage SmartSign modes, follow the instructions below.
See the end of the article for instructions on how to change your SmartSign modes from a mobile device using the MyVRSpot app.
Create a SmartSign Mode
Click the Admin dropdown on the top menu and select Manage Signs.
Click the View icon (eye) for the sign you want to update.
Click the Add Sign Mode button below the name of the sign.
Enter a name for the mode and click OK.
Scroll down to the Sign Media section and the title for the new mode will be below the default mode. You can add media to your new mode by clicking Add Media or Add URL. Check this article for details on how to manage your mode content.
Managing SmartSign Modes
To change between your modes, begin by clicking the Admin dropdown on the top menu and selecting Manage Signs. Then click the View icon (eye) for the sign you want to update.
In the top right is where you can change which mode is active. To change the mode, click the dropdown, select which mode you want to use, and click the Update Mode button. Within a few seconds, depending on the size of your media, all of your signs will display the media from the mode you chose.

Delete a Mode
To delete a mode, click the Delete Mode button underneath the Sign Media title.
Change Modes from a Mobile Device
Step 1: First, download the MyVRSpot app, which is available for Android and iOS devices. You can find the links to the apps here.
Step 2: Login to your MyVRSpot account from the MyVRSpot app.
Step 3: Click on the menu icon in the top-left corner of the app.
Step 4: Select My Signs.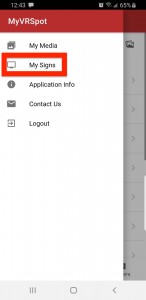 Step 5: If you have more than one SmartSign, select the sign that you want to update the mode for.
Step 6: To the right of the Change Sign Mode area, click the title of the current mode.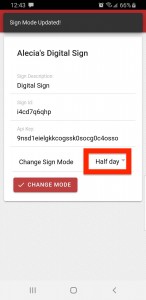 Step 7: Now, select the mode you want to change to and click OK.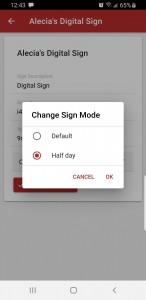 Step 8: Finally, click the Change Mode button to confirm.