Recording and Saving Videos with the Video Recorder
The Video Recorder feature was designed to access your built-in or USB connected video camera, and allow you to record a video directly from your account.
To access the Video Recorder, click on the Create link from the top menu and select Video Recorder. A new screen will appear in your browser, and will look like this.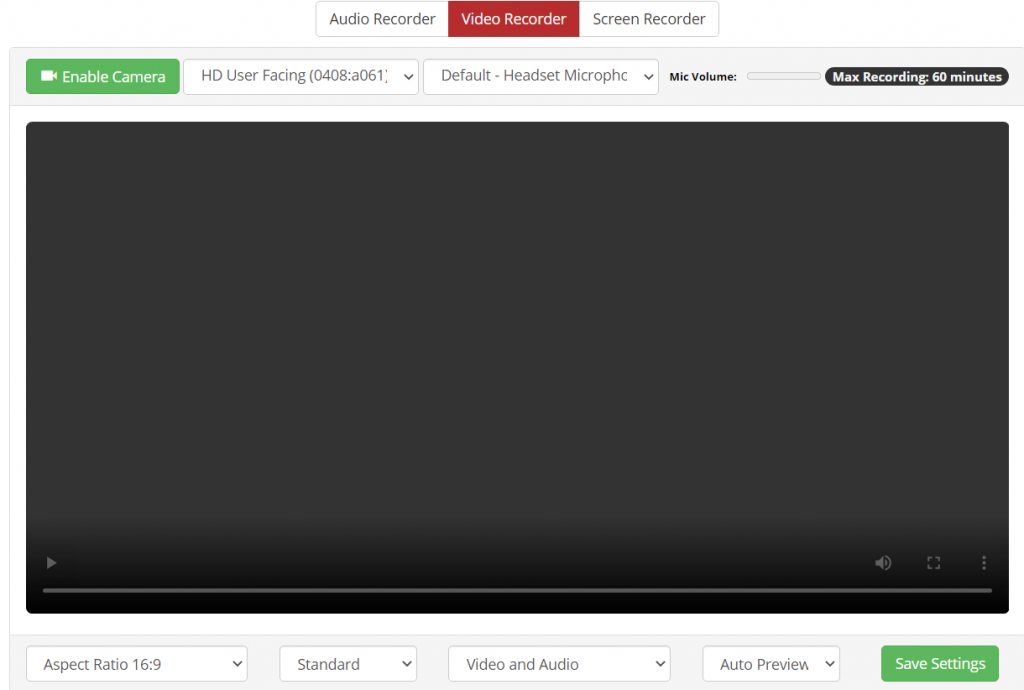 Recording Settings
While the default settings for the Video Recorder will meet most everyone's needs, we do give you the option to change some of these settings.  Let's review some of the setting options before you click that record button.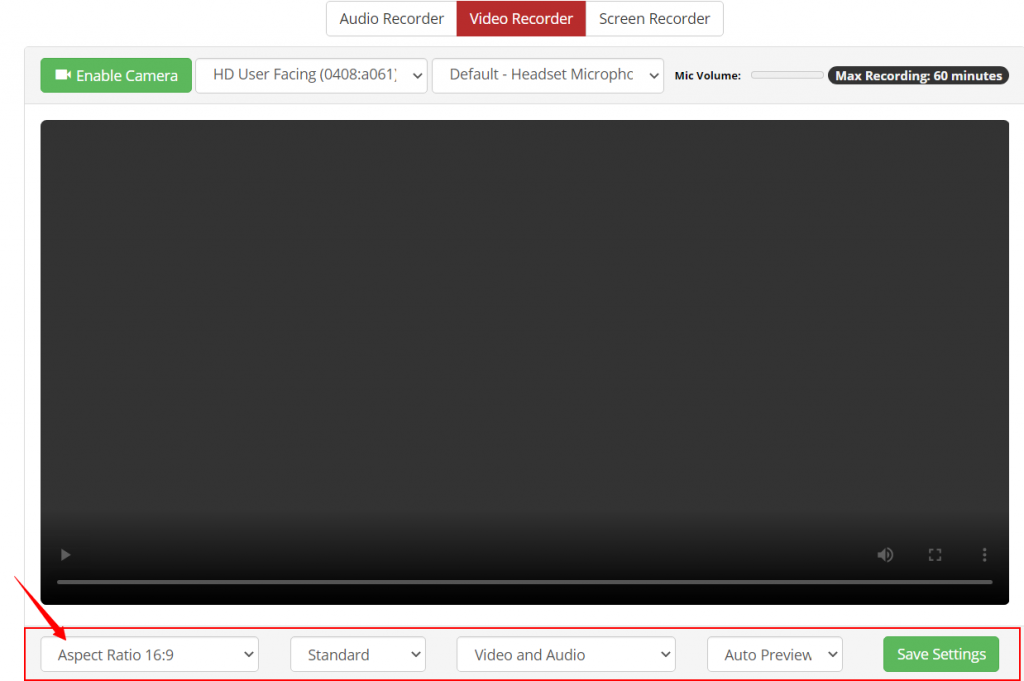 At the bottom of the screen, you have 5 items:  Aspect Ratio, Resolution, Record option, Preview Setting and a Save Setting button.
Aspect Ratio: By default, this value is set to 16:9, which is the best setting for viewing most computers.  If for some reason you wanted a much smaller footprint, you can choose the 4:3 option.
Resolution:  By default, your video will be recorded in Standard Definition (SD) 480P, which is appropriate for most web applications.  If a higher quality video is desired, click the drop down and select High, which will record in High Definition (HD) in 720P.
Record Option: By default, we will record both the video and audio.  If you just want to record the video with no audio, you can select that option here.  Note: if you want to record audio with no video, you can view the user guide article on using the Audio Recorder.
Preview Setting: By default, once you finish your recording, it will automatically start playing your recording back to you within the preview window.  If you want to disable this feature, click the down arrow and select the Disable Auto Preview option.
Save Settings:  Once you are done with your settings, make sure to click the Save Settings button.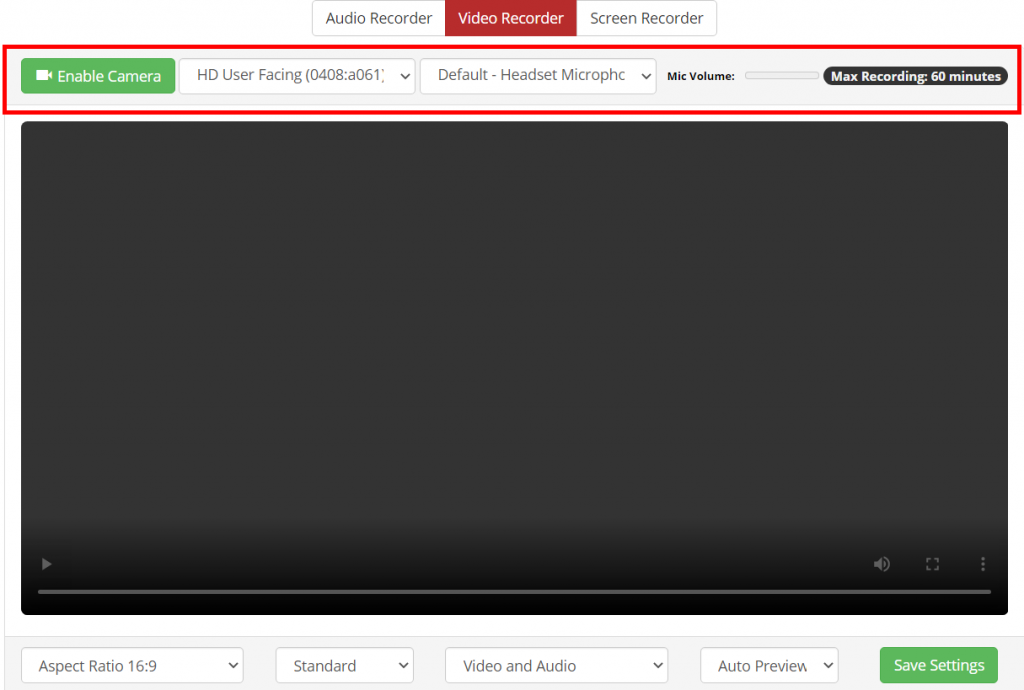 At the top of the screen, you have 3 items: Camera Selection, Audio Selection, and the Audio Indicator. You can use the Camera Selection drop down menu to switch between cameras, perhaps from your built-in webcam to one that is plugged in via USB. Similarly, you can use the Audio Selection drop down menu to switch between microphones. Use the Mic Volume Audio Indicator to make sure that your audio is being picked up.
Record Your Video
Once you have saved your settings, you are ready to record.  The first thing you need to do is click the green Enable your Camera button.  This will turn on your camera and give MyVRSpot permission to use your camera for this recording. Once you enable your camera, you will either see yourself or whatever the camera is pointing to.  Press the Video Record button, and you will have two options: Start Recording Now, and Start Recording in 3 Seconds.

Click the Start Recording Now to immediately start recording.
Click the Start Recording in 3 Seconds if you would like to have those last few seconds to prepare yourself for your recording.  This will display a countdown from 3 – 2 – 1 – record.
While recording, the red Recording button will display in the top left corner.
When you are done recording, press the Stop Recording button.

After you press the Stop Recording button, you will see three options: Delete Recording, Download Recording, Save Recording to My Account.  Remember, if you have the playback setting to Automatically play back the video you just recorded, it will start to play.  If you have this item turned OFF, you can click the play button on the bottom left of the player page to preview your recording.

Delete Recording: This will erase the recording you just created, and will bring you back to the screen to record a new video.
Download Recording:  This option will download the newly created video file (.webm format) to your computer.  This tool is particularly useful if when you try Saving to your Account, you get a message that you can not upload right now.  This gives you the chance to save your work to your computer hard drive, and then try to upload again later.  Note:  A .webm video format is designed to play via the web.  If you try to play this file from your computer, it most likely will play the audio with a black screen.  Do not worry, for once you upload the video to your MyVRSpot, it will play as expected.
Save Recording to My Account:  This will save your newly created video to your MyVRSpot account.  If you do not have enough bandwidth to handle the upload at that time, you will get this message:
Unable to upload file. Please try again or download the recording to your device and try to upload again later.
This message simply means that at that moment, you do not have enough upload bandwidth to successfully upload the video to your account.  As a best practice, click the Download option and then upload the video later to your account through the Upload main menu.
Once you click the Save to My Account button, you will be taken to the video's attributes page, where you can then give the video a proper name, add a description, etc.