If you want to stream using a webcam built into your Windows or Mac desktop or laptop, or from a USB camera connected to your computer, we recommend the use of OBS Studio.  This is free software and can be downloaded here:  https://obsproject.com/
After installing the application, open it.  On the bottom right hand corner, click Settings, then click the Stream icon on the left hand side. This is where you will enter your streaming information.  In the URL field, type in your RTMP address, and in the Stream key field, type in the Channel ID,  Both the RTMP and Channel ID can be found in your account.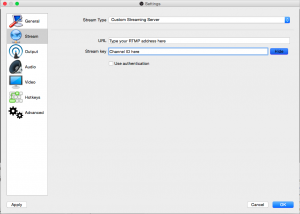 To find these streaming credentials from your account, click the Streaming menu item at the top of the page, and then click Manage channels.  Click the view icon on the far right hand side for the channel you want to stream to.  This will display several pieces of information, including both your RTMP address and Channel ID.

There are several other options you can explore with the OBS software, allowing you to change quality settings for both audio and video, though have found that the default settings work quite well.
Once you have made any desired changes, click the OK button in the bottom right corner.  This will take you to the main screen in the OBS software.  At this point, you should see your video camera (device) listed under the Sources section, and if the device is already connected to your computer, will probably be looking at yourself.
To start your stream, click the Start Streaming button on the right hand side.  Once you stream starts, that Start Streaming button will change to a Stop Streaming button.  Click this button when you want to stop streaming.
To see if the connection is working and a sample of your stream, you can go back to your MyVRSpot account, click Streaming, Manage Channels, and click the View icon to the right of the Channel name.   You will see the large Sample Player at the bottom of the page. Click the Play button on this section, and it will play whatever is currently being broadcast on that Channel.
Make sure to click the Stop Streaming button when your broadcast is completed.