There will be times when usage reports are needed. They are super easy to run and will give a brief snapshot of usage within your organization.
How to Access Usage Reports
Admin -> Usage Reports

District administrators can run a usage report for any school within their district
School administrators can only run reports for the school they are assigned to


Choose the school where a report is needed
Click Run School report

Usage reports default to the last seven (7) days, however if the date range field is clicked on, the range for usage can be customized.
Once date range has been specified, click Apply and the report will run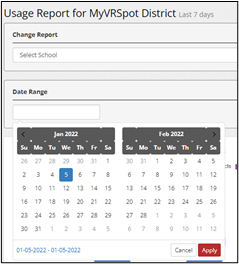 How to Access Group Media Usage Reports
Groups -> Choose Group -> Click bar graph icon on right of group name
Number of views and number of plays
How to Read Usage Reports
Two options:
Show Printable View – will allow the report to be printed without miscellaneous information
Video Upload Log – shows a log of videos that have been uploaded to the MyVRSpot System
Information included:
Number and types of media uploaded
Number of media hits

Total logins: number of times the system has been logged into
Unique logins: number of individual log ins to the system
Live Broadcast views: How many visits the Live Broadcast page has gotten
Number of Live Broadcasts: How many Live Broadcasts have been conducted
Number of MediaSpot Projects, SmartSpot Quizzes and VRS Assignments Created