MyVRSpot's Online Video Editor allows you to make edits to any of your uploaded or created videos.  This process will not delete your original video, but will create an edited copy of it with whatever changes you had made.
NOTE: You can not edit video links put in your account, such as YouTube or Vimeo links.
To edit an existing video, from the Main Menu click on Create and then Video Editor.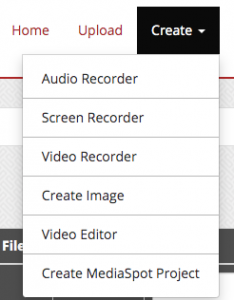 When the Video Editor launches, it will display all of the videos from your account that can be edited.  These will appear in the Media section on the top left of the page.  Currently, you will only see videos uploaded or created as of August 1, 2020.  We will eventually go back and make previously uploaded videos available for editing.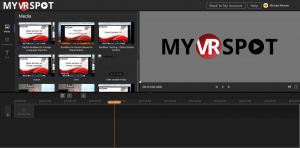 Publish Your Edited Video
To save the changes you have made to your video file, follow these steps:
Once your edits are complete, click the blue Ready to Publish button in the bottom right corner.

This will open the Publish Setting section in the top left of the page.
There will be a default file name of "output", but you can change this name to whatever you want you new edited video to be called.
Once you type in your new title, click the blue Start Processing button.
This process may take a few minutes, depending on the length of your video.  But once the video has been processed (rendered) and saved to your account, you will get this screen.  Note the message that says, "This video has been submitted to your account and should be available soon.

At this point, you can either click Back to My Account to bring you back to your MyVRSpot Home page, click the Download button, if you would like to save a copy of the new video to your local computer's drive, or just click the X on the top right side to close this screen.