All saved MediaSpot projects will appear in your MyVRSpot Gallery (home page), and will display several icons under the project thumbnail.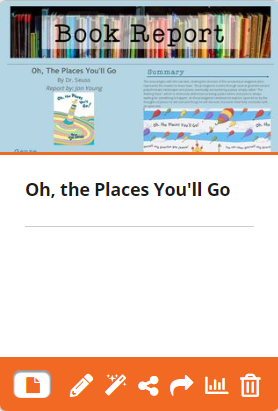 Edit Attributes:  The top of the page has the Project URL for viewing or sharing. This icon also allows you to change the Name of the project, upload a Thumbnail, add Tags, Activate or Inactivate it, Media Permission for this project, QR Code, add to a Group and add Standards.
Edit Project:  This icon will take you back to your project, where you can edit any of the text fields and delete and/or add new media items.
Embed:  Clicking the Embed icon will display two items: URL link to your project, and the Embed Code.  The Embed Code link allows you to embed your project into an existing webpage.
Move:  The Move icon gives you the ability to move this MediaSpot project into any folder or sub-folders that you may have already created in your account.
Tracking:  The Tracking tool will display a report showing how many times your project has been accessed/viewed.  By default, you will see all views for the past 14 days, but you can use the Calendar option to change that date range.  The report will show total number of views, separated by date, as well as the average amount of time people are viewing your project.
Trash: Clicking the Trash icon will delete your project.  You will be prompted to confirm that you are wanting to delete the project before it is removed from the system.
Accessing Your Project:  To view your saved project, just click on the Project Icon.  This will display your project in our Media Player.  Click the icon again or click the "Open Project in a New Window" and your project will display.  If you want to see it from the URL link, just copy the link (access this by clicking the Embed icon), copy the link and then paste the link into a new tab or window in your browser.