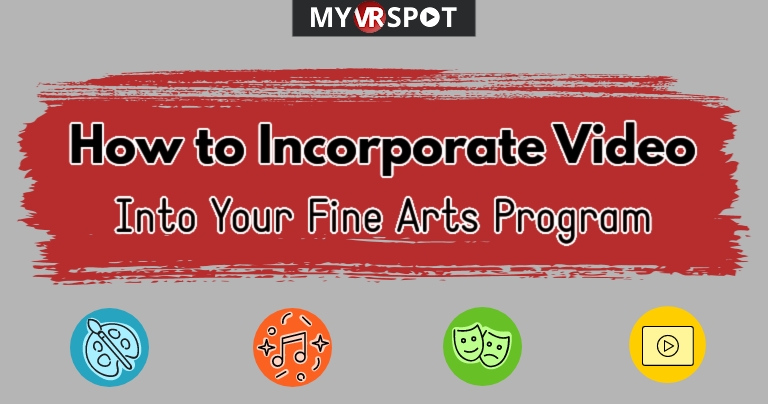 There's no doubt that ed tech tools which focus on video as an instructional aid have been on the rise for years. Educators across grade levels and content areas have adapted to a fast-paced modern world by incorporating technology into their curriculum in meaningful and impactful ways. While it's easy to see how certain departments such as career and technical education programs can find this new technology so useful, it's not always so obvious how to best incorporate tech into other areas such as fine arts programs. Quantifying and modernizing creative pursuits such as music, dance, and visual arts presents a challenge that requires some creative thinking. Thankfully, that's what fine arts educators do best.
First, take advantage of the high-quality video content that's already out there and available to use. Whether guiding students through music, dance, visual arts, or theatre, providing a world-class visual model helps students grasp higher-level concepts faster and reproduce them to the best of their ability. Foster critical thinking and analyzing by showing multiple different professionals performing the same piece of music, style of dance, etc. and having students compare and contrast the performances. Creating a robust library of professional video content for fine arts educators to pull from when planning their curriculum can enrich the artistic experience of each and every student in their classrooms.
Next, take advantage of the professionals right in your own backyard – your teachers. Fine arts teachers spend many years honing their craft and becoming experts in their field. They can add to that robust library of video content by creating their own top-notch and custom-tailored videos. Teachers know best what type of content their students need and what resonates with them, so encourage them to combine their impressive content knowledge with the knowledge of their own students to provide valuable video content that can be used for years to come.
Teachers aren't the only ones who can create excellent video content for a fine arts program. Having students create their own video content opens up a higher level of thinking and creativity that can be difficult to achieve with more traditional means. Individual performance assessments that were once a nightmare for shy students can now be done in privacy and confidence with video submissions to their teachers. Video recording/editing software software is at an all-time high in popularity and accessibility, so the possibilities for our students are endless if we only provide them.
Finally, don't forget to share this video content with parents and community members. Community outreach is an incredibly important but often-overlooked aspect of the job of a fine arts educator. But without the support of the community, many of the opportunities afforded to students would become increasingly difficult to provide. There are a multitude of media storage and sharing options out there, so choose the one that works best for your organization and keep your community of fine arts supporters in the loop with all the amazing things happening in your program! If all of this is starting to sound a bit daunting, don't worry. MyVRSpot is a one-stop shop for media management that offers solutions to address all these needs. With unlimited storage and bandwidth, teachers and students alike can upload and create as much video content as they want without fear of running out of room or backing it up somewhere. Suddenly that robust library of video content is within reach when teachers and students have the ability to record and edit video content in their MyVRSpot accounts. And creating a video-on-demand library has never been easier than with the Video Showcase tool. Contact MyVRSpot today to see how our media management solutions can help incorporate video into your fine arts program!