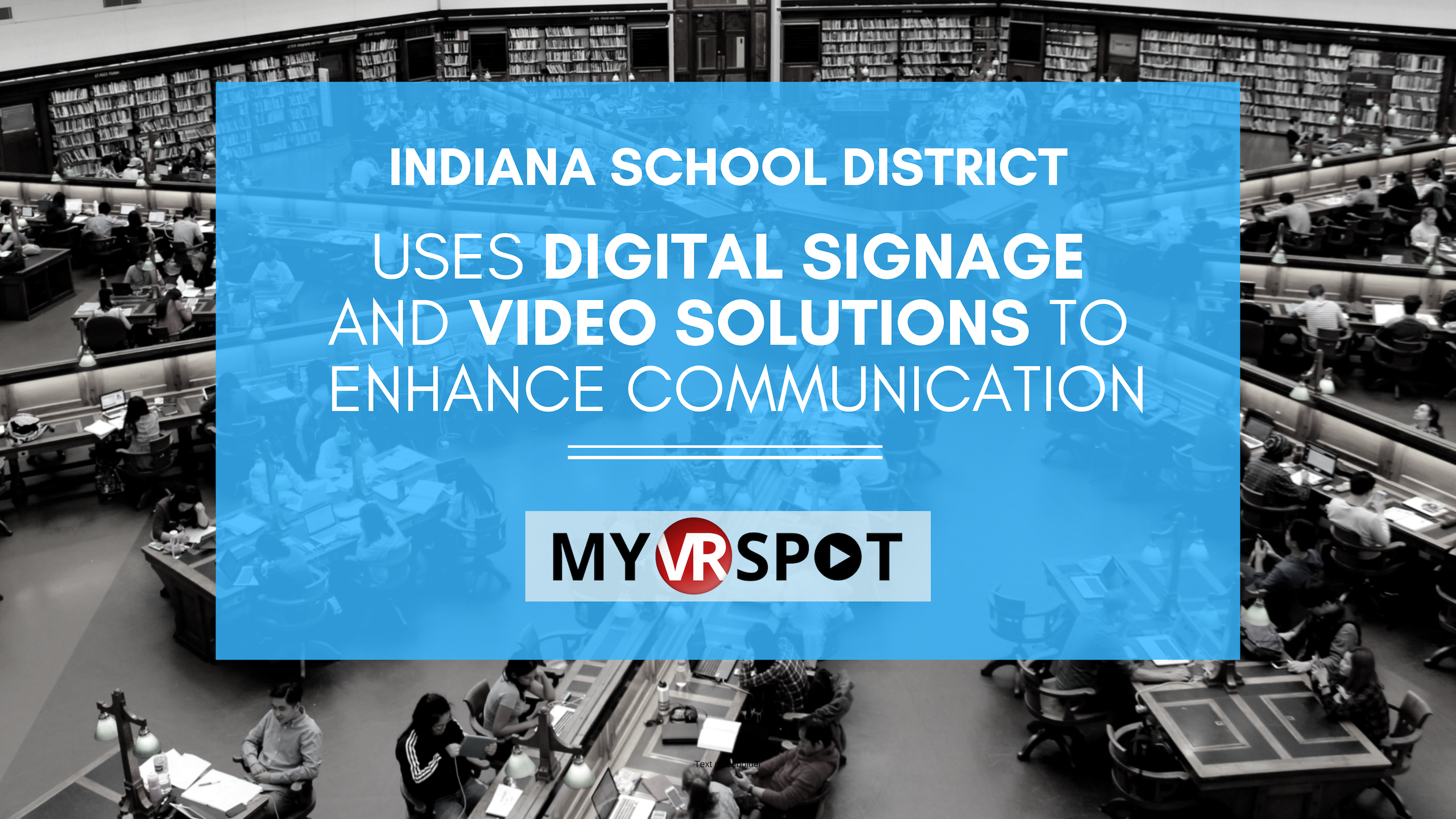 Indiana School District Uses Digital Signage and Video Solutions to Enhance Communication
An Interview with Deana Beecher, Media Specialist, 
MSD of Decatur Township | MyVRSpot District Profile
MSD of Decatur Township, Indiana
"I don't have the same day twice to be honest. Staff and students seem to have 1,000 different needs and I try to meet them all the best I can," said Deana Beecher, Media Specialist at MSD of Decatur Township Schools and the interviewee of this article. With so many demands from teachers and administrators, she uses the tools she has to be highly effective and efficient.
Deana continued, "I connect people to resources that they need, I manage the media center accounts and the collection, I write the grants, I work with teachers in either one-one or small groups, I'm on the team that writes the College and Career Readiness Course curriculum," she finished, "and I manage MyVRSpot accounts for my building, and the webpage for my building as well."
MSD of Decatur Township
The MSD of Decatur Township is a school district in Indianapolis, Indiana that strives to provide their more than 6,500 students and 800 staff with robust opportunities and innovative experiences and education.
With the Township's goals of quality and innovative opportunities and experiences, they have been aggressive to explore digital education technology solutions.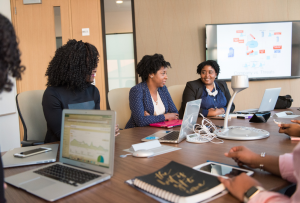 Digital Signage
School buildings have an increasing number of TV screens in hallways, common areas, and other places in the building that often are not being used during most school hours. Now, with MyVRSpot's SmartSigns solution, administrators, technology coordinators, and media specialists can efficiently publish and update media on these monitors. Additionally, school districts can pair their MyVRSpot live streaming service with their Digital Signs.
Deana uses Signs to communicate a variety of things, "homecoming, club meetings, book returns, finals schedules, need-to-knows, and a variety of other announcements–anything the kids need to know." It's much quicker to update, "with a couple of clicks, we can remove or add content. The process is login, upload, click on the Sign, add content… just click, click, click, and it's done!"
"We used to have a different digital signage service, but there were quite a few steps involved in order to get the content we needed on a monitor," stated Deana. She described, "We have 15 to 20 monitors mounted throughout the building and each one has an IP address. How I used to add media to these monitors was to first create a PowerPoint, log into each IP address, and load all of these files in to each IP address."
Can you imagine the frustration? When someone made a small tweak to a file that Deana had previously uploaded, she would have to go through the entire logging-in and uploading process for each IP address again. That's rough.
"When the computers behind the monitors ended up dying, we had no way to talk to them. And that's when MyVRSpot suggested using their SmartSigns solution partnered with a Raspberry Pi device", explained Deana.
The Decatur Township was one of MyVRSpot's first clients to test their Digital Signage solution. "We mounted Raspberry Pis behind each monitor and the MyVRSpot team did a lot of behind the scenes work and provided us with training," Deana reflected.
"Now, the process takes a fraction of the time, as I can make changes through the web interface at any time and the changes are instant," delighted Deana. "Best of all, because I upload content and then tag it to be added to our Digital Signage, it updates all Pi devices and monitors at the same time."

Administrators can schedule media items to appear or be removed from a Digital Sign on a specific date and at a specific time. Otherwise, you also have the option to "Add Immediately" and the media will instantly be added to the Sign until it's removed.
Modes can also be created, which are mostly for emergency situations, such as an emergency building evacuation. Deana stated, "If I need to, and of course if I'm not in immediate danger, I can quickly log into the Sign and change the Sign to the Emergency Mode, which has pre-populated media for that type of situation."
Other Video Solutions
Deana and MSD of Decatur Township also use MyVRSpot for multimedia and video solutions including hosting, sharing, creating HTML projects, and screen capturing.
Multimedia and Video

Hosting
"All of our video content is in MyVRSpot, which we migrated from a different system several years ago–and there were a lot of videos. It's a place for teachers to search for and access video content."
Not only is it for hosting, but also to share, archive, and collaborate on their various digital files including videos, images, audio files, documents, and more. Videos can be added to an ever-expanding digital repository, available to all administrators, teachers, and student within the district. It also ensures that the district controls how content is shared.
To share media, users can share via a URL link, embed videos into a website, or share with a QR code.
HTML Projects
"You can make whatever you like in MediaSpot, as in simplest terms, it's a drag-and-drop HTML editor. It's easy to create an "interactive" project or newsletter, where you can add your text fields, videos, images, downloadable documents, and much more.
"I use MediaSpot myself, and I've used it with other teachers to make various learning stations. I also just made a Christmas breakout box activity, too." This is what station work looks like, "the kids move from station to station, scan a QR code for my MediaSpot project, and it goes directly to an image, video, or activities with questions, or even to an answer key to check their work."
Deana's response to MyVRSpot's Screen Capturing announcement was, "Wow! Just tried this–super easy. Very cool!"
Now you can create your own video tutorials that save directly into your account. So whether you want to capture your entire screen, an open application, or just one of your browser tabs, it doesn't get much easier than this. Access the Recorder tool from the main menu and get started today.
Customer Care
"I can't say enough about MyVRSpot's customer service — it's stellar," said Deana, "I've called and emailed, and I know you're sick of hearing from me, but the MyVRSpot team is on it. They always respond and I get results."

Try It Yourself
If you currently have a MyVRSpot account and want to learn more about creating your own Digital Sign, building station work with MediaSpot, or how to screen capture your own tutorial videos, check out our Online Resource Guide by clicking the question icon [above image] after logging into your account.
If you're not a MyVRSpot client and considering one of, or multiple, MyVRSpot's solutions, let us know. We believe the best way to evaluate if a solution is right for your district, is to pick it up and use it, within your own environment. Start you limited trial account for yourself, your school, or district today.