Each time you log into your account, you will be directed to the home page, also known as the gallery or media gallery. The gallery provides a comprehensive overview of all the content in your MyVRSpot account. No matter which page you are on within the system, clicking the "Home" button at the top will always take you back to your media gallery.
The gallery serves as a gateway to all the features available to you and displays all the files you have uploaded to your account. Here's a tour of the home page: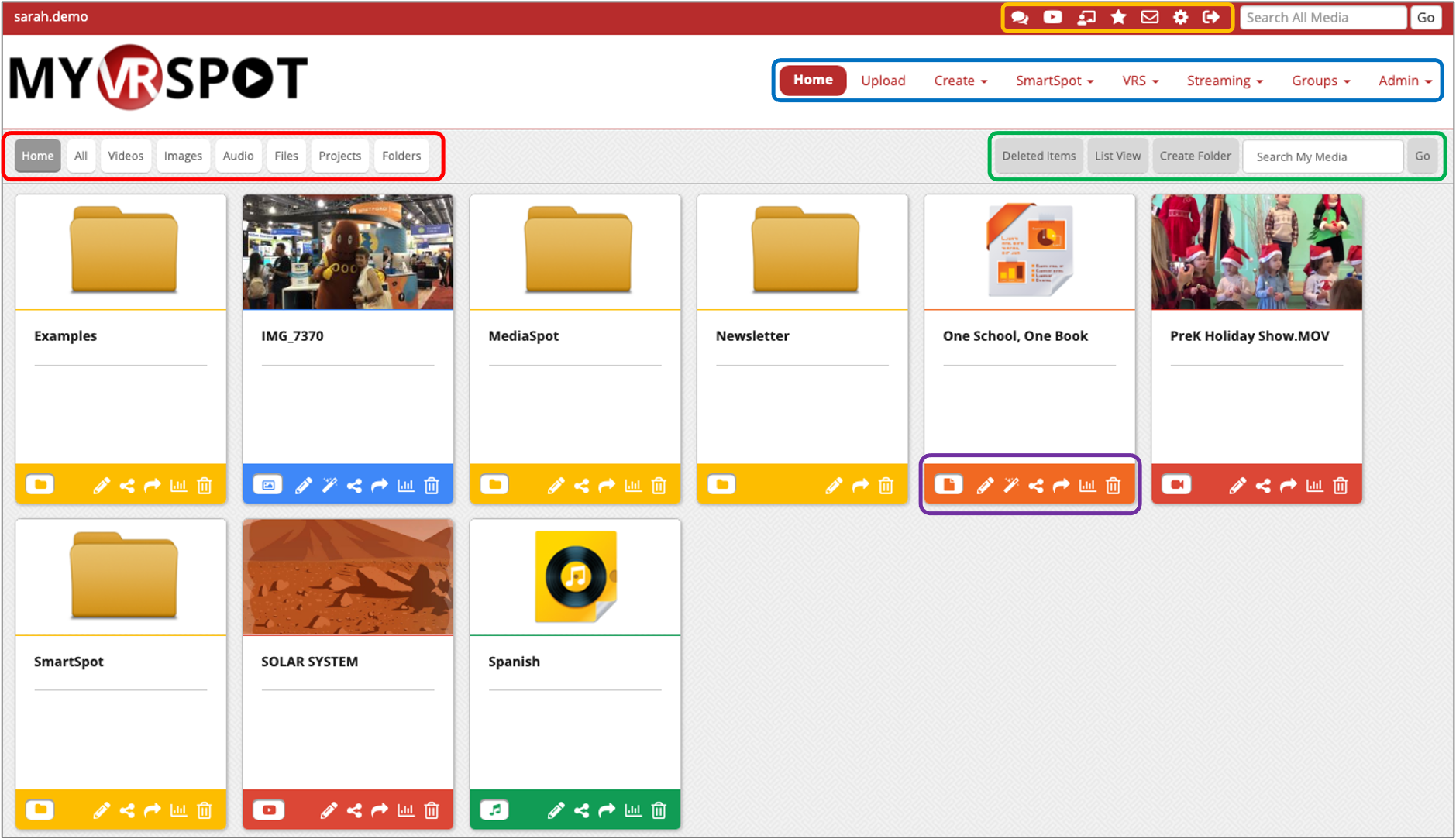 Media Sorting Menu: Use this menu to sort your media. You can change your home screen view to display only videos, images, audio, files, projects, or folders.
User Bar: Find essential icons in this bar to access various functions:
Featured Media
Customer Service Contact Page
Videos On Demand Showcase
Training Hub
Favorite Media
All Users
Notifications
SmartSigns (if applicable)
Teams
Admin Tools
User Settings
Logout
Main Menu Bar: This bar provides access to a range of tools and features, including:
Uploading Media
Creative Tools (Recorders, Video Editor, and MediaSpot)
SmartSpot (Create Quizzes)
Video Response System (VRS) for Assignments
Live Broadcasting Channel (if applicable)
Creating or Joining Groups
Action Items: In this section, you can perform the following actions:
View your Deleted Items
Change display to List View
Create Folders
Search your Media
Action Bar: Under each uploaded item, you'll find quick access icons for the following actions:
Edit Content
Sharing Content
Move Items into Folders
Data Tracking of Media
Delete Content