Any digital media in your MyVRSpot account can be added to and removed from your Showcase page from your gallery, one of your folders, or from another user's gallery through a search result display.
Note: District Administrators can add/remove media from district and school Showcases, while School Administrators can add/remove media from a school Showcase. School Admins can also add/remove media from a classroom Showcase that they created, or where they have been added as an Admin for that Showcase. Remember, you can add other users to your classroom Showcase, which is particularly helpful if teachers are working together to add content, and each is sharing their joint Showcase with their various students/classes.
Add Media to a Showcase
To add a piece of media to your Showcase, navigate to the item you want to add to your Showcase page and click on it to go to the viewer page. Underneath the viewer is a button that says Showcase. Click the Showcase button and select which Showcase(s) you would like to add the item to and choose a Showcase Category from the drop down menus. If you want to create a new Showcase category at this time, click the Manage Categories button, then click Create Showcase Category.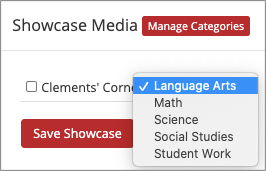 Once you select a Showcase and a category, click Save Showcase. This item will now appear on your Showcase page.
Remove Media from a Showcase
Only administrator accounts can remove videos from Showcases and you must be logged in.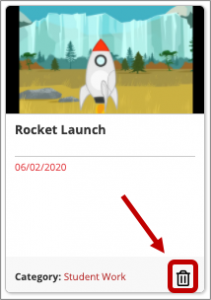 To remove content from your Showcase, click the Media Tools dropdown menu in the top menu and select Showcases. Click the View icon (eyeball) to the right of the Showcase you want to update. Click the Remove from Showcase icon (trash can) below the thumbnail of the item you'd like to remove.
If you want to remove all items from a Showcase at one time, you can click Media Tools > Showcases. Click the View icon (eyeball) to the right of the Showcase and then select the Remove All Showcase Items button.