If you would like to launch a SmartSign from the Chrome browser using an extension, follow the steps or watch the video below.
Make sure you have the latest version of the MyVRSpot Digital Sign extension for Chrome. If you need to download it, click here.

After it's installed, make sure 'Allow Access to File URLs' is turned on within the 'Manage Extension' settings for the extension.

Navigate to your SmartSign within MyVRSpot. To do so, click on the Manage Signs icon at the top of the page. Click on the name of your sign to open up its settings.

Within the Chrome browser, click on the MyVRSpot Digital Sign extension icon in the upper right of your Chrome window. Next to the MyVRSpot extension, click on More (three dots) and then click Options. This will open in a new tab.

Go back to your SmartSign settings from your MyVRSpot account that you were just on. At the top of this screen you will see the Sign ID and API Key.

5. Copy the Sign ID and then the API Key and paste them into the corresponding fields in the extension tab's settings page. You will also see options for Sign Update Frequency (how often do you want the API to search for newly added sign content), the Live Stream Update Frequency (if using a MyVRSpot Live Broadcasting channel with your Digital Sign), and the Sig Feed Frequency Check (how often do you want to check for changes to a Sign Feed.). Lastly, you will see options to Mute All Media and whether you want Closed Captions displayed (if available).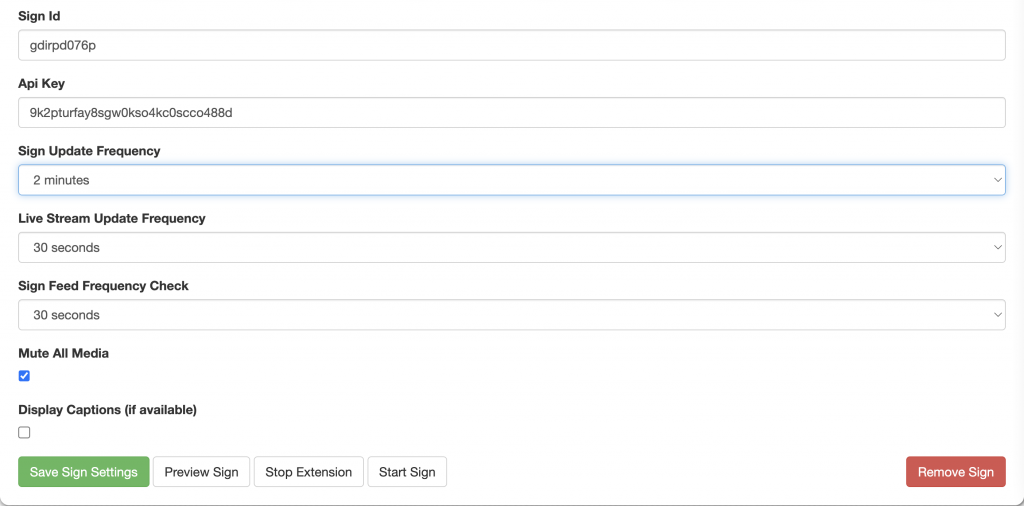 6. Click on Save Sign Settings.
You're all set! You can now Start your digital sign from the Chrome extension page. Just go to your Chrome extensions and click on MyVRSpot Digital Sign, and your sign will launch.

How to Manually Update the Chrome Extension
The extension will keep itself up to date via Chrome's automatic updates, but if you want to manually update the extension go through the following steps.
Go to the extension settings in Chrome or navigate directly to chrome://extensions/?id=iacgobcomeblbmajlkcehdhjhdbbhfm
Toggle on Developer Mode in the top right of the page.
You'll now have three new buttons in the top left, one of them being "Update" which you can now use to manually update the extension from the Chrome store.
Double check that the "All access to file URLs" option is still enabled and you're all set.