After you create your SmartSpot quiz and send it to your students or staff, you'll want to see the results. Follow the steps below to find the results, add custom grades, see individual results, and export the quiz results.
View Your Quizzes and Quiz Results
To view your completed quizzes, click the SmartSpot dropdown from the top menu and select My Created Quizzes. Click the Report icon (bar graph) to the right of the quiz that you want to view the quiz results for.

After clicking the bar graph icon, you'll see the list of results including the number of questions answered, questions correctly answered, and the score.
Open Answer Questions and Add a Custom Grade
Click the "View Results" button to the far right to see the details of the quiz. Additionally, within this section, you can:
See the responses to Open Answer Questions
Add responses to Open Answer Questions
Force a final grade in case a user completed only some of the questions and didn't submit it
Export Results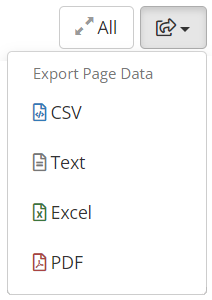 After reviewing all of the results, you can export the grades by clicking the export icon, located at the top-right of the page. You can export either in the format of CSV, Text, Excel, or PDF.