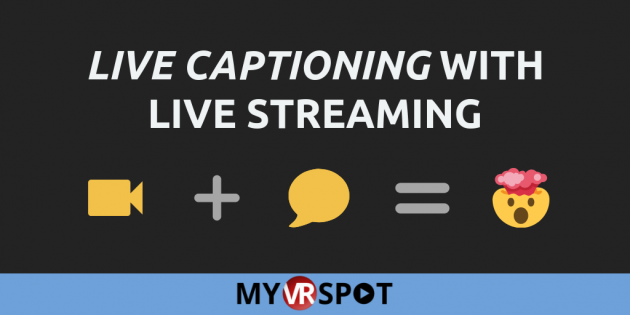 New Feature! Live Captioning with Live Streaming
Are you looking for a way to make your live streams more accessible, inclusive, or ADA compliant? You can stop searching because this may be the solution you have been looking for–our newest feature, live closed captioning! This feature is included at no additional cost with any Live Broadcasting plans.
To add live closed captioning to streaming is easy! If you or your district already subscribes to any of our Live Broadcasting plans, login and either watch this how-to video and follow along, or navigate to your streaming channel settings. If you're updating your settings, click "Enable Web Captioner" and save. Once you're ready to stream, open the Web Captioner and begin live captioning your streams.
If your district doesn't subscribe to MyVRSpot's Live Broadcasting service, contact us for a quick demo to see if live streaming with live transcribing is what you're looking for. Want more closed captioning services for your live streaming? Now your live stream recordings can be automatically closed captioned and/or automatically added to your webpage!
Does your district have the desire or need for better accessibility, inclusivity, or compliance? Let us know in the comments below or send us an email to support@myvrspot.com.