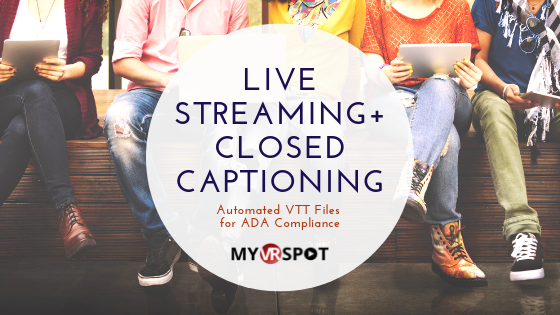 Live Stream with Closed Captioning to Automate ADA Compliance
Your Live Stream recordings can be ADA compliant by having a Closed Caption file automatically added to the video recording before sharing it on your website. By using MyVRSpot's Live Streaming and speech-to-text Closed Captioning services, you can enable this feature for a, if you will, "stream-lined" process. This feature is included at no additional cost with any of MyVRSpot's Closed Captioning and Live Broadcasting plans.
Not only will the video recording of a Live Broadcast, of say a Board of Education meeting, be able to meet ADA compliant when shared on your website, but it also makes your Streams easier to search for within your school district or organization's media repository. The video transcript from the Closed Captioned files will be searchable, and easier for users in your district to find.
You're on your way to freeing-up your precious time! To automatically add Closed Captions to your Stream recordings, edit your Streaming Channel and under the "Stream Recording Captioning" section, checkbox "Automatically Speech to Text Caption Recorded Streams," and click "Update" to save your changes. Or, watch watch this how-to video and follow along. Try it yourself and be amazed by the seamlessness. Use the Caption Editor tool to perfect your captioned text, such as to correct the spelling for unique names or modify punctuation.