In this month's newsletter, we're focusing on students--the reason why we're all in the education industry! Explore your students' learning and creative potential in our solutions and examples below.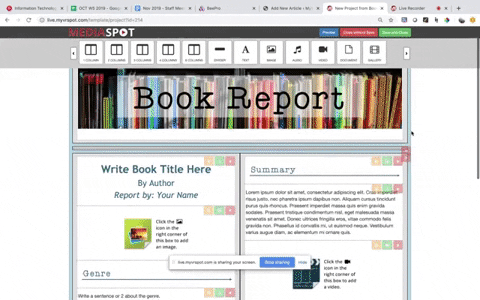 MediaSpot - Interactive Multimedia Projects
It goes without saying that web pages are the ultimate way to share oodles of text, videos, images, audio files and documents. What if we can provide your students with these same opportunities, but without all of their work being published on a public website. That's where MediaSpot comes in. MediaSpot is a template-based drag and drop HTML creator, giving students the tools to create interactive multimedia projects. They can either create their projects from scratch or use one of several included templates, such as Book Report, Science Fair Presentation or Student Portfolio.
Students have high standards for the content they create, and being able to add various media resources helps them create projects others can truly engage with, and that they are proud of. Your students can add videos, images, audio files and multiple text fields to any MediaSpot project, and also have the ability to create their own Media Playlist.
Avoid the "Blank Screen" Syndrome
We've all been there… You've been given the complete freedom of a project, but you're paralyzed by all of the possibilities that the blank screen represents. Let's help your students avoid the blank screen syndrome by assigning them to create a project using one of the MediaSpot templates. By using one of the existing templates, or you can easily create your own templates, we are providing the design so your students can stay focused on the content.
SmartSpot - Quizzes Within Videos

Peers listen to peers, it's a fact. And that is why we think that students are the most qualified candidate to raise awareness about important topics to change other students' attitudes and actions. Begin to make change at your school by partnering with MyVRSpot to host a student video contest! Your district selects the topics, your students are the creators, and we'll provide the prizes.
New! Customer Training Webinars Series! 

Want to use more video in your classrooms or schools but you're not sure how? With MyVRSpot's new Training Webinars Series, you can register for an open webinar to learn more about the tools. Topics include the MyVRSpot platform, groups, quizzes and live broadcasting.
If you ever have questions, please do not hesitate to reach out to us via email at support@myvrspot.com, or call us toll-free at (888) 237-6740, where you will talk to a real person.