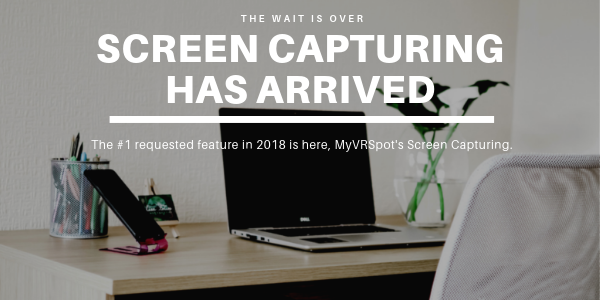 FOR IMMEDIATE RELEASE
MyVRSpot Releases New Screen Capturing Feature for 2019
Popular video platform releases web-based screen capturing for school districts.
Bailey, CO – December 27, 2018 – MyVRSpot announced their new Screen Capturing feature will be released in early January, 2019, and represents the newest tool in their extensive video management system. As the most requested feature throughout 2018, the Screen Capturing solution not only saves users time, but maintains the strict privacy controls provided MyVRSpot customers.
"What's unique about our screen capturing solution, is that it is completely web-based", says Michael Kessler, COO of MyVRSpot. "This allows our users to be able to use the solution on most any device, without having to purchase separate software and taking up valuable hard drive space," he adds. 
The initial release of the Screen Capture solution will be available for the Chrome browser, utilizing a Chrome Add-on. Each user can choose from a variety of screen recording options, as well as recording quality. You can easily capture a specific application open on your computer, on a tab in your browser, or even your entire screen. You can choose to record in SD or HD quality, and each recording is automatically placed within the users MyVRSpot account. Those video recordings can then easily be shared via URL links, embed codes, QR codes, or through one of MyVRSpot other proprietary sharing tools, such as MediaSpot or Video Showcase.
"I can't tell you the number of people over the past year that have requested we add a screen capturing tool to our online video management solution. As a fully web-based solution, it's just not as easy as one might think," chuckles Zach Lancaster, CTO of MyVRSpot. "But as much of our development has been guided by suggestions and feedback from our customers, I was happy to finally be able to fulfill all of those customer requests with this newest release," he adds.
For instructions on how to install and use MyVRSpot's Screen Capturing solution, please watch this how-to video.
About MyVRSpot
MyVRSpot is the leading video management solution for the K12 educational community. They currently work with more than 550 school districts, as well as, non-profit organizations and U.S. government agencies. MyVRSpot provides a full suite of online video solutions for K12 including: Multimedia and Video Hosting and Sharing, Live Broadcasting, Closed Captioning, Digital Signage, among other solutions.
For more information, please visit www.myvrspot.com or call 888-237-6740.