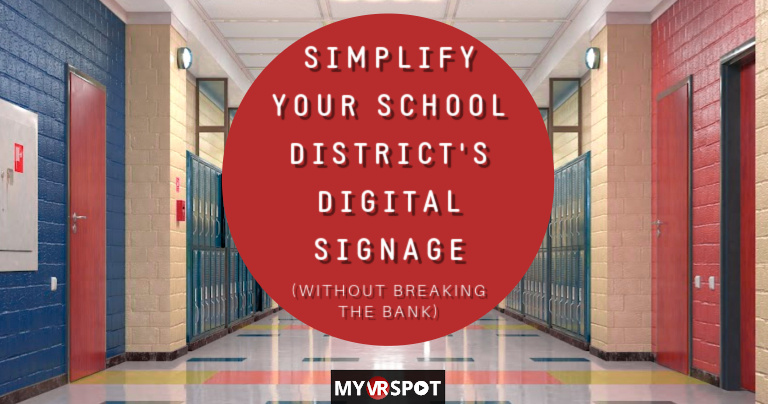 With the rise in popularity of educational technology over the years, one often overlooked and underappreciated tool that has emerged is digital signage. TV screens have been placed in countless school hallways across the country, displaying important information and announcements for students and faculty to see throughout the day. The ability to quickly and seamlessly communicate things like the breakfast and lunch menus, bell schedules, announcements regarding after-school events, and even live weather reports has transformed how students, teachers, and administrators interact with their school environment. But with so many options on the market for digital signage solutions, how do you choose the one that best fits the needs of your school district while staying within your budget?
While perusing through the many offerings, you may begin to notice that these digital signage solutions typically fall into one of two categories: hardware-based and software-based. Hardware-based solutions require some sort of external piece of hardware, such as a Raspberry Pi, to connect to the internet to display media to a monitor. This type of digital signage can be great for school districts who are looking for a powerful solution that allows for heavy use of video displays while still preserving your bandwidth. The required hardware is often inexpensive to purchase, and many districts may already own all the equipment needed to get up and running.
On the other hand, districts who are looking for a more lightweight alternative to display lots of images rather than videos might find a software-based solution more fitting. Not having to worry about the process of setting up a hardware-based solution for the first time allows users to jump right into a system and begin displaying media quickly and with ease. The convenience of being able to upload and manage the media for your signs directly in a web browser can really lighten the load on busy educators and administrators.
There are certainly advantages and disadvantages to both types of solutions, which is why MyVRSpot offers both! With SmartSigns, you can choose the Raspberry Pi-based hardware solution, or the web-based Google Chrome extension software solution. Whether you're looking to display media to just one screen in your main office or to multiple screens throughout the building, MyVRSpot's SmartSigns has you covered. Designate users can quickly and easily upload and manage videos, images, and URL links to TV screens throughout the building, with just a few clicks of the mouse. Additionally, SmartSign users have the ability to switch signs between multiple "modes", each mode having a different set of media to loop on the screen(s). Does your district subscribe to our Live Broadcasting solution? You can even display any active Live Broadcasts directly to your Raspberry Pi-based digital signs! Set up a free trial today to see how MyVRSpot can simplify your school district's digital signage without breaking the bank!