Over the past few years we have heard a common problem from schools and districts.  As school buildings seem to have an increasing number of TV screens in hallways, common areas, and other places in the building,  Administrators, Tech Coordinators, and Media Specialists all needed an easy way to publish and update media on these monitors efficiently.
After testing a variety of hardware options, we decided on a Raspberry Pi unit to power our digital signage solution.  These units are inexpensive with the parts running in the neighborhood of $50-$60 per unit.  These units are also small enough to be easily attached to the back of the TVs for storage.
Our vision was to pair our video management solution to make it easy to attach the Pi units to TVs, and allow end users to quickly and easily add and remove media.  In addition, we wanted a solution that would allow these monitors to display any active Live Broadcasts on the solution.
After months of research and development, we have released our digital signage solution called SmartSigns.  With SmartSigns, you can designate users to be able to add and remove live broadcasts, videos, audio files, and images to TV screens throughout the building, with just a few clicks of the mouse.  Additionally we have developed the ability for signs to have multiple "modes", with each mode being assigned its own set up media items.  These modes could be used for emergencies or special events, thus allowing administrators to easily change the media looping on the sign.  The video to the right, provides a quick walkthrough for SmartSigns.
What hardware is needed for Digital Signs?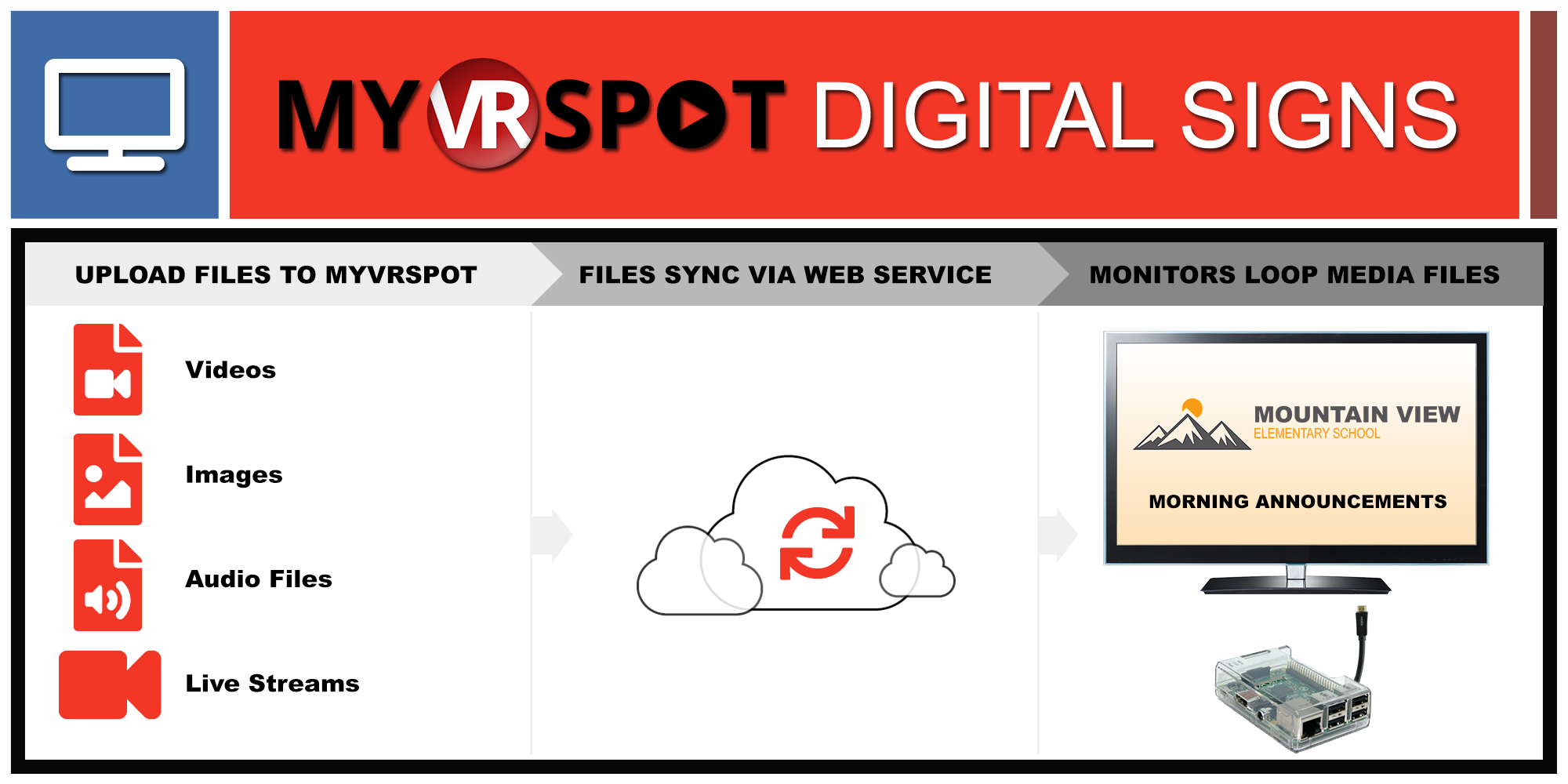 Our digital signage solution requires some hardware that works with MyVRSpot.  Each screen will need a Raspberry Pi unit connected to the monitor with an internet connection in order to function.  We have compiled a buyers guide for these items as well as a checklist below.
Raspberry Pi (We test with the Pi 3 B+)

Raspberry Pi Power Supply

HDMI Cable

Internet Connection for Pi (wifi adapter is available for Pi units)

A monitor or TV (ideally with an HDMI input)
---
Are you interested in testing our SmartSigns?
Fill out the form below and we will add you contact you about setting up a trial.