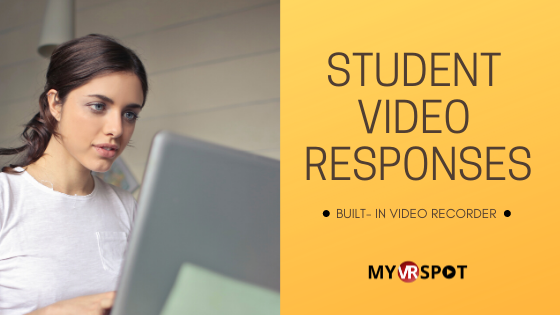 How Students Can Use Video Responses to Demonstrate Learning
Students can easily record and submit video response to their teachers using the MyVRSpot platform
Do you teach Spanish, Mathematics, History, English, Drama, Orchestra or, really, any class? Do  you want a new and engaging method to check your students' understanding of a subject other than a multiple-choice quiz? Then consider using MyVRSpot's built-in Video Recorder tool and sharing features. The Video Recorder tool is available to all MyVRSpot user accounts.
Your students will be able to quickly and easily respond to a prompt or assignment by using MyVRSpot's Video Recorder tool. For example, you could ask your students to compare and contrast two characters in a book, hold a conversation about food in Chinese with another student, or explain an example of how to use algebra in real life.
Whatever prompt you give your students, MyVRSpot makes it easy for them to record their video responses and then turn it in to their teacher.
To use MyVRSpot's built-in Video Recorder tool, students login to their MyVRSpot account, click the Recorder button, and then record their response. Once the student has stopped recording, they can publish their video directly to their account, which can be shared almost immediately. Watch this video to see exactly how to use the Video Recorder Tool.
Next, the student can quickly and safely submit their video recording to their teacher. To share a video, the student can click on their video, copy the link from the URL bar, and paste it in an email to their teacher or in an LMS like Google Classrooms, Schoology, or Canvas. If your students have more sharing options* they may be able add their video to a classroom Group or create and share their video using a QR code.
Now that you know how quick and easy it can be for your students to create video responses, you can jump right in! If your school district does not currently subscribe to MyVRSpot or MyVRSpot Student Accounts, contact us today! We would be happy to schedule a demo webinar to show you the solutions or register for a pre-scheduled webinar here.
*Student sharing options are managed by District Administrators.