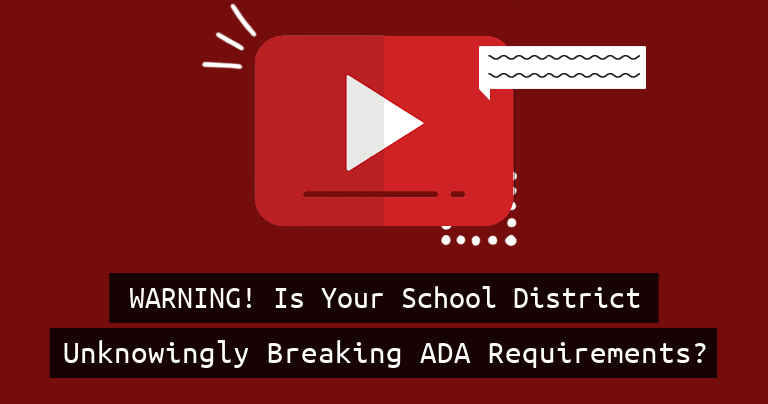 As a whole, educators tend to be good, law-abiding citizens who would never intentionally break any rules or regulations. However, many school districts across the country are currently breaking ADA and other compliance requirements in regards to closed captioning without even realizing it! There are several laws pertaining to the accessibility of electronic media and their use in schools, each of which have their own unique framework and guidelines and are subject to change. It's no wonder school administrators can lose track of the requirements set forth for them by the law when there is so much to keep up with. But never fear – we're here to dissect what the requirements actually are, the benefits your students experience with increased accessibility, and what you can do about it.
WHAT ARE THE REQUIREMENTS?
When the United States Congress enacted the Americans with Disabilities Act (the ADA) in 1990, it was decided that State and Local Governments, including public entities such as school districts, cannot discriminate against individuals with disabilities and must make reasonable accommodations so that they can participate in any service, program, or activity available. This means that all public school districts, including charter schools, regardless of whether they receive federal funds, must adhere to this law. Specifically, Title II of the ADA states that public entities:
May not refuse to allow a person with a disability to participate in a service, program, or activity simply because the person has a disability.
Must provide programs and services in an integrated setting, unless separate or different measures are necessary to ensure equal opportunity.
Must furnish auxiliary aids and services when necessary to ensure effective communication, unless an undue burden or fundamental alteration would result.
Shall operate their programs so that, when viewed in their entirety, they are readily accessible and usable by individuals with disabilities.
Additionally, school districts who receive federal funds are required to comply with Section 504 of the Rehabilitation Act of 1973, which states that "no qualified individual with a disability in the United States shall be excluded from, denied the benefits of, or be subjected to discrimination under" any program or activity that receives federal financial assistance. Section 508 of the same Act spells out specific requirements in regards to electronic and information technology, stating that for all media "developed, maintained, procured, or used by the Federal government…At least one mode of operation and information retrieval that does not require user hearing shall be provided, or support for assistive technology used by people who are deaf or hard of hearing shall be provided. (1194.31)" Section 508 applies directly to Federal departments and agencies, which can lead many to mistakenly believe that schools are exempt. However, K-12 schools who receive state funding will be held to this standard by proxy, as the Assistive Technology Act will not provide funding to states unless they guarantee that all their programs, schools included, will comply with Section 508.
WHAT YOU CAN DO ABOUT IT
All of this to say, it's generally a good idea for school districts to provide closed captioning on videos wherever possible in order to stay in compliance with the many laws and regulations. In addition to complying with the laws, providing closed captions can benefit all students regardless of disability status. Those who are learning a second language find captions particularly helpful, as well as students looking to improve their word identification, reading retention and comprehension, content discovery and mastery, and more.
Providing quality closed captioning for such a large amount of media is not nearly as daunting of a task as it sounds if you have the right tools at your disposal. Many services provide a variety of closed captioning options such as automatic speech-to-text captions and human transcription services. Look for platforms built specifically for K-12 education to ensure that all the specific needs of your school district are met.
READY TO GET STARTED?
MyVRSpot's Closed Captioning solution is here to help. As the leading video management service dedicated to working within K-12 education for the hosting, sharing, creating, streaming, and captioning of media, MyVRSpot is proud to offer three different options for closed caption generation:
In-Browser Caption Editor

: Create your own caption files or upload your own VTT files

Speech-to-Text Captions

: Our system can takes your video through a speech to text algorithm to generate a caption file

Human Captioning

: Submit a request within MyVRSpot for a real person to transcribe and generate a caption file
The accessibility doesn't stop there! MyVRSpot Live Broadcasting customers have the ability to add live transcription to any stream, ensuring that all live broadcasts remain in compliance with the laws as well. Ready to see how quickly and easily you can make the team at your school district into ADA-compliant accessibility advocates? Schedule a demo today!