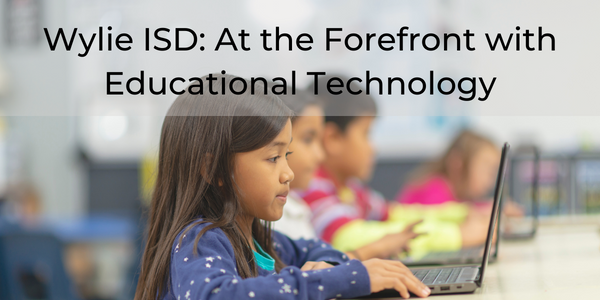 Wylie Independent School District is located 24 miles northeast of Dallas and serves over 18,800 students in the city of Wylie and surrounding communities. In addition to their excellent academic offerings, they equally focus on character education with "The Wiley Way," the district's nationally recognized values and character education program. They are focused on providing their students with a world-class education, including a wide range of extracurricular activities. Technology is emphasized to prepare students to thrive in 21st-century careers as well as provide district transparency and easily communicate with parents and families.
What was the original goal?
Wylie ISD has always been at the forefront of districts that effectively use technology and more specifically, video technology on their campuses.  Previously, their teachers were either using YouTube or were saving videos to their local internal network, which was causing storage issues. Doug Bellamy, Web and Media Coordinator for the district, said "We were looking for a new video storage solution that was cost-effective, easy to manage, and easy for our teachers to use." Chief Information Officer Chris Lamb discovered MyVRSpot at a conference and after initial discussions, returned to Wylie with a desire to see if the MyVRSpot educational media platform would help them accomplish their goals.
How does MyVRSpot address those needs?
Each of Wylie's 20 schools now has their own, customized web-based platform for creating, managing, editing, and sharing educational media – all with unlimited storage! No more worrying about the strain on internal resources or student safety with YouTube.  The best part of all is that the solution is cost-effective, especially with the limited budgets school districts must work with.
Wylie also purchased MyVRSpot's Live Broadcasting solution, providing live streaming channels for their district office and campuses, giving them the ability to broadcast events such as board meetings, athletic events, and morning announcements. This allows them to adhere to legal requirements regarding district transparency as well as share school activities with parents and the community at large. Students participating in morning news shows (even at the elementary level) are learning important 21st-century skills such as collaboration, creativity, communication, critical thinking, and how to effectively use technology.
Results
User accounts have impacted how Wylie educators teach in several ways. First, teachers no longer have to deal with converting files to some common format so that their students can view them.  Second, all files can be viewed on any internet-connected device, whether at school or at home. Third, teachers can easily search and share their media files with each other, helping to drive an environment towards collaborative teaching. Fourth, teachers are now able to seamlessly create and share interactive video quizzes with their students. Questions are embedded by the teacher throughout the video to gauge student understanding. These quizzes can be both automatically and manually graded, and teachers can share quality feedback – all organized within the MyVRSpot platform.
Student engagement has also been positively affected by the district's adoption of the MyVRSpot solution, as Wylie schools are tapping into the learning modality today's youth are particularly adept at – learning via video. Additionally, the platform solved student safety and sharing issues they were having with other video sites. Bellamy commented "YouTube and Vimeo are great options, but MyVRSpot beats them in most every way.  Not only is the Spot commercial/ad free, the Showcases and other tools allow our district to provide, and teachers to use, video content in new and innovative ways."
Wylie also appreciates the platform's tracking feature, as teachers can monitor which students have viewed their media, how long they stay on the page, and can even create bookmarks and notes to help students focus on what's most important. Additionally, students have access to almost all the platform features that staff have. This includes digital creation tools such as a screen recorder, image creator, video editor, and html page designer.
One unexpected feature that has proven to be a favorite tool for the staff at Wylie is the MyVRSpot Showcase feature. Showcases are MyVRSpot's version of a Video-On-Demand system that is easily created using any number of files in a user's account. A custom URL is generated with a clean, professional-looking interface for visitors to filter through categories and select the media they'd like to view. These Showcase pages can be shared out via URL, QR code, embedded in a website, and integrated into LMS platforms such as Google Classroom, Canvas, and Schoology. They have proven very useful to the Wylie staff, as Bellamy again shared, "We use the Showcases to display groupings of videos and as an archive source.  The main benefit, besides that our constituents have easy access to our videos, is that the Showcases make it easy for us.  Once the Showcase is established, we simply record the event and add it to a Showcase, and it automatically shows up on our website.  No need to copy and paste an embed code for each event…it just works!"
Summary
Wylie ISD knows the power of educational video! Whether it's teachers engaging with students, schools engaging with parents, or the district engaging with the community, they understand how to use technology to increase learning and build positive culture. The district's innovative technology program "#edtech Wylie," ensures long-term success and student academic achievement. They are well on their way to attaining their goal to "make instructional technology as indispensable to teachers as the Smartphone is to its users!"