Comprehensive Digital Signage Solutions Made Easy
Over the past few years, we have heard a repeated request from school districts looking for a better digital sign solution. As school buildings seem to have an increasing number of monitors in hallways, common areas, and other locations throughout their buildings, there had to be an easier way to publish and update media on those monitors efficiently.
MyVRSpot's SmartSign digital sign solution is completely web based and specifically designed for schools and school districts. Authorized users are able to easily control the content to be displayed on monitors throughout the buildings, including videos, images, and URL links. The solution also directly integrations with MyVRSpot's Live Broadcasting solution, which allows any live event to automatically supersede any media being displayed. This integration is perfect for morning news shows, special announcements, or even emergency announcements from the administrative staff.
The SmartSign solution utilizes our custom built Chrome Extension, and as such, the digital sign content can be viewed from most any device that can run the Chrome browser and Chrome extension. By utilizing the Chrome extension, district bandwidth usage is minimal, as media is saved to the local drive of each device.
Authorized Admins are able to manage, monitor, and control the content for each digital sign throughout the district, from their single MyVRSpot account, making global and/or standardized content management an easy task.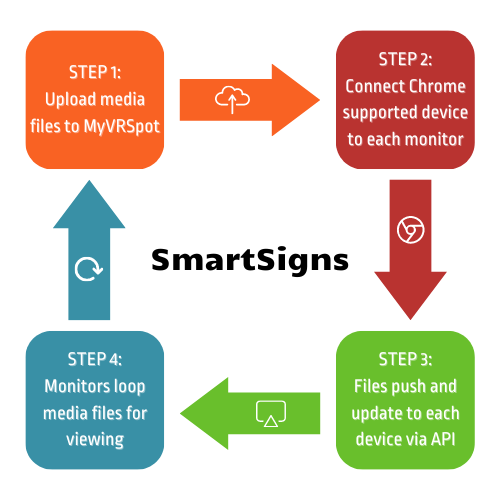 Highlights of the SmartSign Solution
Display videos, images, and URL links

Connect your Live Broadcasting channel to any SmartSign

Powered by the MyVRSpot Digital Sign extension for Google Chrome

Remotely upload and update media from any device

Schedule items to appear immediately or at a later date/time

Multiple feeds for quickly changing between media libraries

Runs with any hardware that can run the Chrome browser and Chrome extension
One Device to One Monitor Option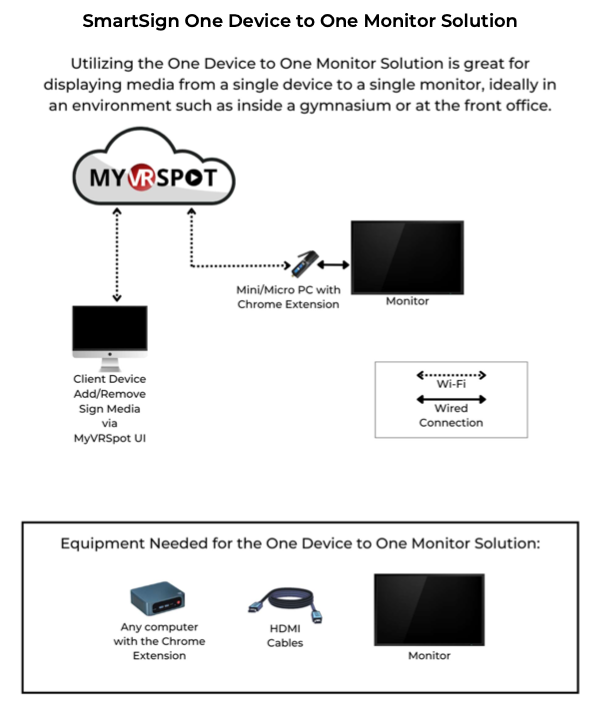 One Device to Multiple Monitors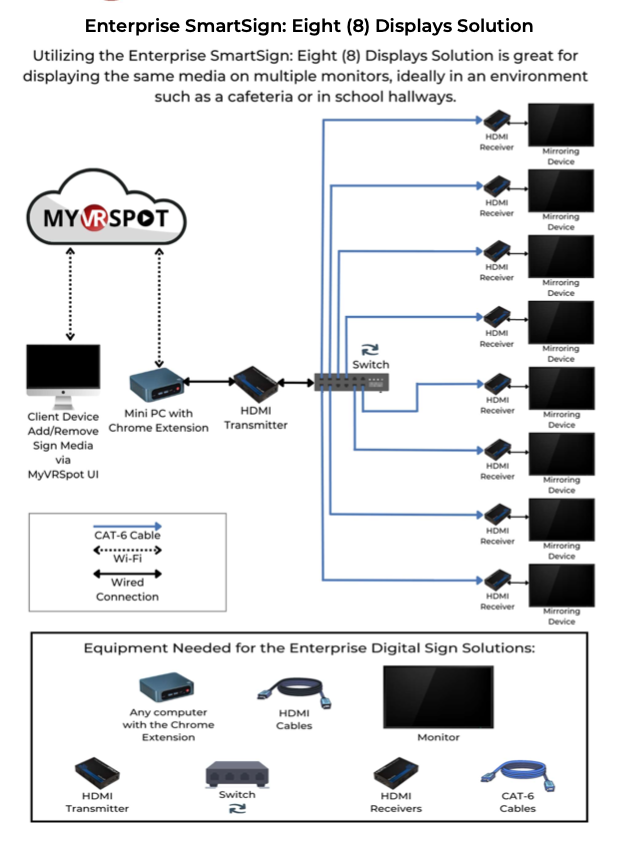 Are you interested in setting up a trial of our SmartSign solution?
Fill out the form below and we will contact you about setting up a trial, or feel free to schedule an online meeting by accessing our calendar here.
Call us today to discuss your digital sign needs, review configuration options, and even request a free trial. You can reach our dedicated sales team at 888-237-6740 x2, or via email at sales@myvrspot.com